Close Encounters of the Third Kind
(1977)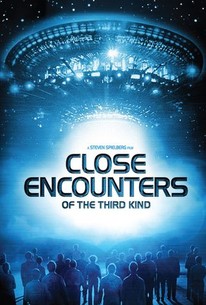 Close Encounters of the Third Kind Videos
Close Encounters of the Third Kind Photos
Movie Info
Steven Spielberg followed Jaws (1975), his first major box-office success, with this epic science fiction adventure about a disparate group of people who attempt to contact alien intelligence. Roy Neary (Richard Dreyfuss) is an electrical lineman who, while sent out on emergency repairs, witnesses an unidentified flying object, and even has a "sunburn" from its bright lights to prove it. Neary's wife and children are at first skeptical, then concerned, and eventually fearful, as Roy refuses to accept a "logical" explanation for what he saw and is prepared to give up his job, his home, and his family to pursue the "truth" about UFOs. Neary's obsession eventually puts him in contact with others who've had close encounters with alien spacecraft, including Jillian (Melinda Dillon), a single mother whose son disappeared during her UFO experience, and Claude Lacombe (celebrated French filmmaker François Truffaut), a French researcher who believes that we can use a musical language to communicate with alien visitors. Lacombe's theory is put to the test when a band of government researchers and underground UFO enthusiasts (including Neary) join for an exchange with alien visitors near Devil's Tower, Wyoming. In 1980, a "Special Edition" was released. While its primary selling point was the addition of scenes inside the alien spaceship, Spielberg claimed that he also cleaned up some choppy editing in the second act. ~ Mark Deming, Rovi
Critic Reviews for Close Encounters of the Third Kind
Audience Reviews for Close Encounters of the Third Kind
Spielberg's classic UFO film is the blueprint for the barely used naive, optimistic alien encounter genre. The reason why very few movies after this one even went this direction and rather blew up the White House instead is simply that it can't get any better than this. Starting out wonderfully mysteriously and disturbing, sometimes even scary, the film soon concentrates on Dreyfuss' character's own approach to the things he saw on the night sky and his visions to culminate in nothing less than the biggest Christmas three ball of movie history. This film simply combines all the assets of Spielberg's early work perfectly. Even the special effects still look pretty good 30 years later, maybe excluding the aliens. And John Williams' melody went down in pop culture history. A masterpiece.
½
This sci-fi classic has aged well, the graphics still look great by today's standards. But the story was slow and the characters unmemorable.
Letitia Lew
Super Reviewer
An enchanting film with great special effects, yet I feel reluctant to regard the aliens as peaceful and awe-inspiring since they do abduct people, even children - and it is also hard to accept the protagonist's selfish decision at the end without any concern for his family.
Carlos Magalhães
Super Reviewer
Close Encounters of the Third Kind Quotes
| | |
| --- | --- |
| Roy Neary: | You can't fool us by agreeing with us. |
| | |
| --- | --- |
| Toby Neary: | Dad, after this can we throw dirt in MY window? |
| | |
| --- | --- |
| Farmer: | [at press conference to discuss UFOs] I saw Bigfoot once! [everyone in thr room reacts. The Farmer stands up] 1951! It made a sound that I would not want to hear twice in my life. [sits down] |
| | |
| --- | --- |
| Jillian Guiler: | [on the police inquiring about her missing son] They asked me if I'd seen any strangers in the neighborhood. |