Closed Circuit
(2013)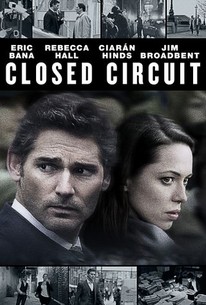 TOMATOMETER
AUDIENCE SCORE
Critic Consensus: Slick and well acted, Closed Circuit unfortunately never quite works up a full head of steam, with a plot that's alternately predictable and full of holes.
Movie Info
In the international suspense thriller "Closed Circuit," a high-profile terrorism case unexpectedly binds together two ex-lovers on the defense team - testing the limits of their loyalties and placing their lives in jeopardy. One morning, a busy London market is decimated by an explosion. In the manhunt that follows, only one member of the suspected terrorist cell survives: Farroukh Erdogan (Denis Moschitto), who is arrested and jailed. Preparations begin for what promises to be the trial of the century. But there's a hitch: the government will use classified evidence to prosecute Erdogan, evidence so secret that neither he nor his lawyers can be allowed to see it. Hence the need for the Attorney General (Academy Award winner Jim Broadbent) to appoint a Special Advocate, an additional government-approved defense lawyer (Claudia Simmons-Howe, played by Golden Globe Award nominee Rebecca Hall), one who has clearance to see classified evidence and who can argue for its full disclosure when the trial moves to "closed" session. The rules for the Special Advocate are clear: once the secret evidence is shared with her, Claudia will not be allowed to communicate even with the defendant or with other members of the defense team. But just as the case is on the eve of going to trial, Erdogan's lawyer dies suddenly, and a new defense attorney, Martin Rose (Eric Bana), quickly steps in. Martin is tenacious, driven, and brilliant - and an ex-lover of Claudia's. The two lawyers make an uncomfortable pact to keep their former affair hidden. But as Martin begins to piece the case together, the outlines of a sinister conspiracy emerge, one that will draw him and Claudia dangerously close again. (c) Focus Features
News & Interviews for Closed Circuit
Critic Reviews for Closed Circuit
Audience Reviews for Closed Circuit
They see your every move. Good Film! Closed Circuit is a good, although unexceptional, suspense movie. The movie has a strong start but a weak finale, and somewhere in the middle looses stream and starts plodding along to its inevitable conclusion. The story itself tests the limits of plausibility and features principal characters who have little warmth and fail to generate much empathy. The question of government duplicity is treated in an unimaginative manner and fails to generate any sense of concern or outrage. Yet the movie does entertain by generating a certain level of tension, albeit watered down. The question of cover up sustains the story and adds an element of tension. Yet there are no heroes which makes the ending anticlimactic. That certain scenes are set at a football game is unoriginal. Further, the alleged victim of a miscarriage of justice is hardly worthy of empathy and the same goes for his family, especially the fourteen year old son who belongs in juvenile detention. The acting is cheesy, the cinematography unspectacular, the story twists and turns predictable and the movie theme muddled. Yet, this movie should be watched because it dramatizes what happens when the truth is suppressed and transparency is discarded in favor of secrecy. A high-profile terrorism case unexpectedly binds together two ex-lovers on the defense team - testing the limits of their loyalties and placing their lives in jeopardy.
Closed Circuit is boring, predictable and just all around mediocre. Save yourself the money and the 96 minutes.
George Farmer
Super Reviewer
Though the cast alone seems to promise much, little is actually delivered here. Government conspiracy seems to be the villain but hardly ever shows its face - everyone is constantly looking around as if they are being watched or listened to but nobody but nobody is ever there and the characters we are supposed to care about are given zip insofar as reason to care goes. The result is a dull film (excepting for the person of Jim Broadbent - who alone rises above this snorefest). Didn't get any sleep recently? This is just the cure. Nighty-night.
Kevin M. Williams
Super Reviewer
Closed Circuit Quotes
| | |
| --- | --- |
| Joanna Reece: | Stay off the roof tops, Martin. |
| | |
| --- | --- |
| Joanna Reece: | Stay off the roof tops, Martin. |