Closer To The Moon
(2015)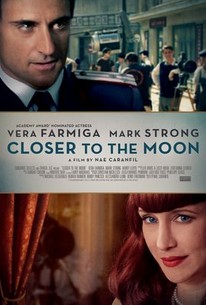 Closer To The Moon Photos
Movie Info
A band of Romanian freedom fighters pull the crime of the century in this gripping heist film based on an incredible true story. Bucharest, 1959: with anti-Semitism on the rise, a group of Jewish WWII resistance members, led by a police inspector (The Imitation Game's Mark Strong) and an academic (Academy Award-nominee Vera Farmiga), reteam for an audacious act of political agitation. Posing as a movie crew, they hold up the Romanian National Bank by making it look like a film shoot. But what comes next is even more unbelievable when the group is handed down a punishment as outlandish as their crime. Game of Thrones' Harry Lloyd co-stars in this slyly comic satire ripped from the strange-but-true pages of history.
Critic Reviews for Closer To The Moon
Audience Reviews for Closer To The Moon
½
"Closer to the Moon" starts with Virgil(Harry Lloyd, of TV's "Manhattan") watching a film shoot of a bank heist in Bucharest in 1959. This inspires him to pursue a career in filmmaking, first as an assistant, then as a cameraman. He learns what he witnessed was in fact a bank robbery when he films the five bank robbers being sentenced to death who then congratulate each other. And then he is assigned to help make a propaganda film of their crime, starring the criminals themselves. That sequence of events begins with Max Rosenthal(Mark Strong), the local police commander, having his well-connected wife Sonia(Monica Barladeanu) being arrested on trumped up charges so he can party with his less connected friends on New Year's Eve 1958. Enter Alice(Vera Farmiga). Itself based on a true story, "Closer to the Moon" is in general concerned with the separation of truth from propaganda in a repressive system.(According the end note, the propaganda film of these events still exists. So maybe as a DVD extra?) Overall, this is a bittersweet movie that while it has the lighter touches of a caper story, also does not ignore the darker realities of these characters who once partisans for their country, now find themselves sidelined, with their careers in ruins. So for the first time in a long time they feel alive, and like before, ironically in the face of death.
Closer To The Moon Quotes
There are no approved quotes yet for this movie.