The Closet (Le Placard)
(2001)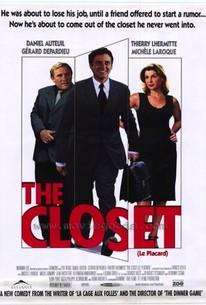 The Closet (Le Placard) Photos
Movie Info
Forty-something Francois Pignon, who has worked for years as an accountant for the same contraceptive manufacturer, becomes suicidal when he learns that his company is downsizing and he is about to lose his job. Work means everything to this gloomy and boring little man since both his ex-wife, who left him after two years of marriage, and their 16-year-old son avoid him. But things are about to change when Pignon's psychologist neighbor persuades him that he can save his job by coming out to his employers as a gay man -- even though he isn't.
Critic Reviews for The Closet (Le Placard)
Audience Reviews for The Closet (Le Placard)
This is a good movie, even if the plotting and execution are a little bit formulaic. But this was exactly the type of movie that I needed to watch today, after an especially rough day emotionally, it was silly and light fun with an immensely likable performance from Daniel Auteuil. The set-up sounds like the plot of a sitcom episode, and in many ways it plays out exactly like that. Francois pretends to be gay to save him from being fired, this revelation leads to his co-workers treating him differently and he gets in increasingly silly hi-jinks. My favorite character in the movie would have to be Felix, I just found this idea of this macho homophobe, in being manipulated by his friends to change his ways and to be nice to Francois or else he risks being fired, discovers that he is, in fact, a homosexual. It doesn't read out well, but I thought the execution was actually the highlight of the film. I don't think the film, overtly, offends gay lifestyle and, in fact, I think it does anything but because, in a way, it does highlight how people have evolved but in a lot of ways they still stay the same. And this is a movie from 2000, so it's definitely relevant as far as its message goes. The movie also lays on its sweetness pretty thick, but not to the point where it becomes nauseating, it's just the right amount. Daniel Auteuil is very entertaining, I think he has great facial expressions and, as mentioned, he's really likable. He has that warmth about him that makes relating to him very easy. The rest of the cast is also solid, Gerard Depardieu being the highlight as his is the most interesting character. The movie, unfortunately, in spite of all of this, isn't hilarious. It's certainly funny, but only sporadically so. But that's not even that big of an issue for me when the movie is as fun as it is. I took this film for what it was, silly and light entertainment. It won't win any serious film awards, but it is a fun film that doesn't demand a lot out of you. There's a place for these films if they're done well, and this movie was so I can recommend it.
Jesse Ortega
Super Reviewer
The Closet is a terrific and very funny film from France. With a great cast at hand, director Francis Veber crafts one of the best comedies that I've seen. The Closet is a ridiculous film from start to finish, and is a smart witted comedy film as well. The cast are great here, and Gerard Depardieu is really funny here, and he has made one of his finest films here. Daniel Auteuil is great as well as the lead character. The film is original, and the jokes are plentiful, and you always find yourself laughing because of its plot. I very loved the film, and thought it was a fine film really should be seen by film fans looking for a comedy that is different, yet has everything you'd expect from such a film. One of the reasons why this film works so well is because of the cast who are just wonderful to watch on-screen. Francis Veber's directing is immaculate and he has a good eye at what makes a good comedy. This is a well done film that delivers the laughs with a smartly written script that just keeps you entertained till the very end of the film. This is a great comedy that delivers solid laughs, and is a very new take on what makes a good comedy. Truly original and fun, along with OSS117, this is one of the best French comedies in recent memory. I highly recommend this film and if you';re in the mood for a different type of comedy, then this film is for you.
½
Smart and funny, The Closet, is a good work of Veber, that don't leave without bring an anti-homophobia.
Lucas Martins
Super Reviewer
The Closet (Le Placard) Quotes
There are no approved quotes yet for this movie.