Clouds of Sils Maria
(2015)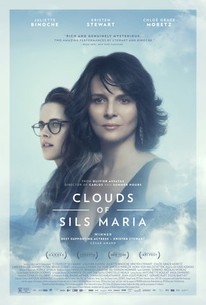 TOMATOMETER
AUDIENCE SCORE
Critic Consensus: Bolstered by a trio of powerful performances from its talented leads, Clouds of Sils Maria is an absorbing, richly detailed drama with impressive depth and intelligence.
Clouds of Sils Maria Photos
Movie Info
Maria Enders (Juliette Binoche) is an actress at the peak of her international career who is asked to perform in a revival of the play that made her famous twenty years earlier. Back then she played the role of Sigrid, an alluring young woman who disarms and eventually drives her boss Helena to suicide. Now she is being asked to step into the other role, that of the older Helena. She departs with her assistant (Kristen Stewart) to rehearse in Sils Maria, a remote region of the Alps. A young Hollywood starlet with a penchant for scandal (Chloë Grace Moretz) is to take on the role of Sigrid, and Maria finds herself on the other side of the mirror, face to face with an ambiguously charming woman who is, in essence, an unsettling reflection of herself. (C) Sundance Selects
News & Interviews for Clouds of Sils Maria
Critic Reviews for Clouds of Sils Maria
Audience Reviews for Clouds of Sils Maria
½
Hard to rate. I couldn't honestly say I loved it, and parts were down right dull, also, 2 plus hours is a big ask for this very slow movie. However, I would have to say it is a well made movie and I think there is something not immediately accessible that is good about it. It's definitely one to think about as I think a lot is personal interpretation so different people will get different messages from it. Or not at all, and be bored. I'm glad I pressed on, not sure I would watch again. I certainly will be thinking about it fir quite some time, though.
Nicki Marie
Super Reviewer
Fiction and reality (in this case, "reality") merge in this fascinating meta-discussion that brings to mind Ingmar Bergman's Persona and also works as a biting satire on celebrity culture, with excellent performances from its three actresses, especially a surprising Kristen Stewart.
Carlos Magalhães
Super Reviewer
½
It's safe to say that Clouds of Sils Maria is a character study. Beyond that though I'm not exactly sure how to label what Oliver Assayas is trying to say with this piece. That is to say, it's a bit dramatically gray. Val enjoys working for Maria, a famous actress. Maria treasures Val's youthful energy. Kristin Stewart inhabits a woman that almost seems tailored made to suit her own temperament. She's at her very best. When Val pleads with her employer to look past the veneer of a rising starlet's goofy superhero role to the talent beneath, you can actually hear Stewart justifying her own work in the Twilight movies. She is every bit Binoche's match in these conversations. Stewart's work here is a reminder of just how great she can be. In the end, one can at least say Clouds simply concerns time, or the passage of it and how it affects us. Director Assayas understands women. With this production, he has created a richly textured examination of individuals with three juicy female parts. There are a few men in the picture too, but they are inconsequential additions merely there to support the girls. Ah yes, Clouds of Sils Maria is that rare meaningful film where women are the sole purpose of the tale. Yes for those familiar with the Bechdel Test, this passes with flying colors. fastfilmreviews.com
Mark Hobin
Super Reviewer
Clouds of Sils Maria Quotes
There are no approved quotes yet for this movie.