Clueless
(1995)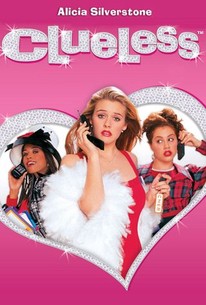 TOMATOMETER
AUDIENCE SCORE
Critic Consensus: A funny and clever reshaping of Emma, Clueless offers a soft satire that pokes as much fun at teen films as it does at the Beverly Hills glitterati.
Movie Info
Jane Austen might never have imagined that her 1816 novel Emma could be turned into a fresh and satirical look at ultra-rich teenagers in a Beverly Hills high school. Cher (Alicia Silverstone) and Dionne (Stacey Dash), both named after "great singers of the past that now do infomercials," are pampered upper-class girls who care less about getting good grades than wearing the right clothes and being as popular as possible. But Cher, who lives with her tough yet warm-hearted lawyer dad (Dan Hedaya) and hunky, sensitive stepbrother (Paul Rudd), also has an innate urge to help those less fortunate -- like the two introverted teachers she brings together ("negotiating" herself improved grades in the process) and new friend Tai (Brittany Murphy), who starts out a geek and ends up a Cher prodigy. Cher also possesses her own sensitive side, and she is looking for the perfect boyfriend, whom she ends up finding where she least expected. ~ Don Kaye, Rovi
Critic Reviews for Clueless
Audience Reviews for Clueless
½
Its plot may be razor thin, but Alicia Silverstone's irresistible charm, the casts blooming performances and quotable & humorous splendor makes Clueless and cult film that still holds up to any generation of teenagers. 4.5/5
Eugene Bernabe
Super Reviewer
½
"Clueless" is another addition to the 90's teen genre and for what it's worth, it is both the best and worst of it's kind. Showing teenage girls that you need to be trendy and rich to be popular is a bit overdoing it, because I am sure not every popular girl back then was rich. Regardless of that complaint, this film depicts high school to a T, compared to some of the other films, from the nice guy getting pushed by the way side, to the popular girl realizing what she truly is deep down. The cast works very well together here, creating the atmosphere that I was hoping this movie would deliver. Some of the big names we know today, definitely prove why they have been know through the years, as they are the standouts here. Not only is this film a great wake-up call to the popular people who are hellbent on staying that way, but it is also a very well-written film that showcases the directors talent in handling the cast with that material. It does not matter that the director eventually went on to disappoint fans, but the fact that this picture has stuck with many people through the past 20 or so years. In the end, did I love this movie? No, but it does it's job quite well, and for that, I really enjoyed myself.
½
Sweet and fun. That's how I can describe it. Worth watching.
Clueless Quotes
| | |
| --- | --- |
| Josh: | Hey James Bond, In America we drive on the right side of the road! |
| Cher Horowitz: | I am! You try driving in platforms. |
| | |
| --- | --- |
| Cher Horowitz: | This is California, not Kentucky? |
| | |
| --- | --- |
| Travis: | I would like to say this. Tardiness is not something you can do on your own. Many, many people contributed to my tardiness. I would like to thank my parents for never giving me a ride to school, the LA city bus driver who took a chance on an unknown kid and last but not least, the wonderful crew from McDonalds who spend hours making those egg McMuffins without which I might never be tardy. |
| | |
| --- | --- |
| Dionne: | Cher's saving herself for Luke Perry. |