Coach Carter
(2005)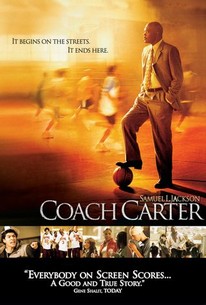 TOMATOMETER
AUDIENCE SCORE
Critic Consensus: Even though it's based on a true story, Coach Carter is pretty formulaic stuff, but it's effective and energetic, thanks to a strong central performance from Samuel L. Jackson.
Movie Info
The true-life story of a coach who tries to teach his players that there's more to life than basketball is brought to the screen in this sports drama. Ken Carter (Samuel L. Jackson) was once a star player on the Richmond High School basketball team in Richmond, CA, and years later, after establishing himself in publishing and marketing, he returns to the school and to the team as the new basketball coach. Carter quickly sees that his work is cut out for him -- the team is having an awful season, and their fights off the court are more decisive than their play on the court. While Carter wants to make the Richmond cagers into a winning team, he also wants a lot more -- to teach the boys to respect themselves and one another, and that they must excel in the classroom as well as in the gymnasium. Under Carter's guidance, the team turns their losing season around, with the state title a genuine possibility. However, when Carter learns that a number of his players have let their grade point averages slip below 2.3, as mandated in a contract he entered into with the students, he decides to lock the team out of the gym and send them into study hall until their marks improve. Carter's plan quickly becomes a subject of controversy among parents and team boosters, and their objections are soon picked up by the local news media, many of whom are not sympathetic to Carter's belief that his players must have goals beyond college ball or the NBA. Coach Carter also features Rob Brown and Rick Gonzalez as members of the team, and R&B diva Ashanti in her film debut as the girlfriend of one of Carter's players. ~ Mark Deming, Rovi
Critic Reviews for Coach Carter
Audience Reviews for Coach Carter
½
It's a cliche storyline, but it's captivating, heartfelt and inspirational to some degree. Coach Carter is great blend of basketball and drama and coming-of-age. Lead by the charismatic Samuel L. Jackson, the film's young cast and fluid chemistry makes it a slam dunk. 4.5/5
Eugene Bernabe
Super Reviewer
Coach Ken Carter: l came to coach basketball players, and you became students. l came to teach boys, and you became men.  "It begins on the street. It ends here." Coach Carter is a good sports movie, even though we've seen these type of stories played out in the same way countless times before and after this film. It still excels as we see all the predictable moments, all the "I'm not playing for this guy," all the "Coach I want back on the team," and all the adversity the players have to go through. The movie is what it's been labeled. It's inspirational and it's heartfelt. While, a lot of movies fail in trying to achieve this by working too hard, this one works too hard at trying to achieve that, but still manages to. Ken Carter takes a high school basketball coaching job at a ghetto, "bad" school. The kids are undisciplined and don't care about school. They also are bad at basketball, having only won four games the previous year. Carter is there to change it all. He tells them the losing stops now. He tells them to either sign a contract stating you'll keep a 2.3 gpa, attend all your class, sit in the first row of all your classes, and wear a jacket and tie on game day. He makes them run endlessly to get them in shape and soon he has his team on track with an undefeated record into the middle of the year. But all that adversity is going to hit. Samuel L. Jackson thrives in the role of Coach Carter. He looks the part and he sounds the part. I wouldn't call it his best performance or anything like that, but he is very good. The acting from everyone else, ummm.... I'll go with so, so. But the movie is called Coach Carter and thusly the fate of the film really rested on Jackson's shoulders and he was able to hold it up. The movie has problems, most of them coming with the genre. Predictability, cliches, and heart tugging among them. Still, this is a better than average addition to the "Bad News Bears" type of story. Coach takes misfit riddled team and turns them into winners. Is it a masterpiece? Hell no. Is it bad? Hell no. I've seen it many times now and I still enjoy it. It's definitely a worthwhile film to watch if you haven't seen it yet. Try FX, it seems to be on that channel every other day.
Melvin White
Super Reviewer
Average sports drama that is predictable, Coach Carter doesn't do anything new or original. I felt that Coach Carter though good, was nothing great, and it was nothing new to the sports genre. The film is the same old, predictable formula. Everything you'd expect happens, despite this; the film manages to be good entertainment. However, the fact that the sports drama genre seems to be comprised of the same old ideas, is a tad annoying. There are good performances here, nothing ever great, but for what it is, it's pretty entertaining. Coach Carter is no different than every other sports drama, and relies on the usual plot elements that you'd expect. The film is average, and if you've seen plenty of sports dramas, its pretty predictable. Nonetheless I liked the film The cast did a good job here, and it had a good plot despite the fact that it's nothing really new. This film will appeal to sports film fans. Coach Carter is entertaining, but like I said, it's the same old tired formula, luckily the cast keeps this film entertaining and watchable. The film relies on cliches but overall it remains constantly dramatic and entertaining like every other sports drama. A good cast, and good plot keeps this film rolling and fun.
Coach Carter Quotes
| | |
| --- | --- |
| Jason Lyle: | You said we're a team. One person struggles, we all struggle. One person triumphs, we all triumph |
| Jason Lyle: | You said we're a team. One person struggles, we all struggle. One person triumphs, we all triumph. |
| | |
| --- | --- |
| Timo Cruz: | Our deepest fear is not that we are inadequate. Our deepest fear is that we are powerful beyond measure. |
| | |
| --- | --- |
| Ken Carter: | ...and basketball is a privilege ma'am. If you wanna play basketball on this team, these are the simple rules you have to follow if you want to want to enjoy these privileges. If you decide to follow these simple rules, i need you and the boys to sign these contracts. |
| Ken Carter: | Basketball is a privilege ma'am. If you wanna play basketball on this team, these are the simple rules you have to follow if you want to want to enjoy these privileges. If you decide to follow these simple rules, I need you and the boys to sign these contracts. |
| | |
| --- | --- |
| Timo Cruz: | teachers ain't supposed to touch students |
| Timo Cruz: | Teachers ain't supposed to touch students. |
| Ken Carter: | I'm not a teacher. I'm the new basketball coach. |