Coal Miner's Daughter
(1980)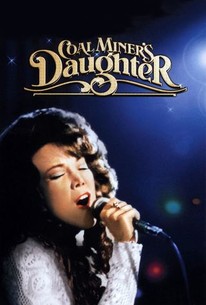 TOMATOMETER
AUDIENCE SCORE
Critic Consensus: Like a classic traditional country song, Coal Miner's Daughter draws on time-tested formula -- and undeniable talent -- to tell a solidly affecting story.
Coal Miner's Daughter Photos
Movie Info
Loretta Lynn was one of the first female superstars in country music and remains a defining presence within the genre; with her strong, clear, hard-country voice and tough, no-nonsense songs about husbands who cheat and wives who weren't about to be pushed around, Lynn introduced a feminist mindset to Nashville years before the phrase "women's liberation" became common currency. Coal Miner's Daughter is a screen adaptation of Lynn's autobiography, starring Sissy Spacek as Loretta Lynn. One of eight children born to Ted Webb (Levon Helm), a coal miner raising a family despite grinding poverty in Butcher's Holler, KY, Loretta married Dolittle "Mooney" Lynn (Tommy Lee Jones) when she was only 13 years old. A mother of four by the time she was 20, Lynn began singing the occasional song at local honky-tonks on weekends, and at 25, she cut (at Mooney's suggestion) a demo tape that earned her a deal with an independent record label. Loretta and Mooney's tireless promotion of the record (including a long road trip through the south in which they stopped at every country radio station they could find) paid off -- Loretta's first single, "Honky Tonk Girl," hit the charts and earned her a spot on the Grand Ole Opry. Stardom called and Loretta never looked back, but success brought with it both joy (a long string of hit records and sold-out concerts and a close friendship with Patsy Cline) and sorrow (a nervous breakdown brought on by overwork and a great deal of stress to a marriage that endured -- but just barely). Sissy Spacek won an Academy award for her vivid, thoroughly natural performance as Loretta (she also did her own singing), and Levon Helm (drummer for the legendary rock group the Band) made an impressive screen debut as her father. Ernest Tubb makes a cameo appearance as himself. ~ Mark Deming, Rovi
Critic Reviews for Coal Miner's Daughter
Audience Reviews for Coal Miner's Daughter
My aunt and cousin were watching "The Coal Miner's Daughter" and I wasn't really wanting to watch it. There wasn't anything else to do, so I watched it. It was actually a pretty good movie. It tells the biography of Loretta Lynn all the way from how she struggled becoming a mother at the age of 14 all the way to when she forgot the lyrics on stage one night. It also has everything in between such as her becoming friends with Patsy Cline and how she achieved superstardom and became the queen of country music. Sissy Spacek and Tommy Lee Jones put on great performances as do the others in the movie. Sissy Spacek sings all the songs herself and does a great job as Loretta Lynn. If you like biographical movies, you need to see "The Coal Miner's Daughter." NOTE: That was my Amazon review from the year 2000 of this great film from the year I was born. Surprised its average rating here on Flixster isn't higher. Would like to see it again, even though I'm not a fan of much old (i.e., older than 80's) country.
Jason Owens
Super Reviewer
Movie's OK. I would probably rate it higher if I could stand country music.
sissy and tommy lee are both very very good but the film could have used a little editing.
Coal Miner's Daughter Quotes
| | |
| --- | --- |
| Patsy Cline: | People are wantin' to know who you've been sleepin' with to get on the Opry so quick. |
| Loretta Lynn: | Well, I never... who would say such a thing? |
| Patsy Cline: | All those girl singers who've been sleepin' with everybody and *still* get on the Opry. |
| | |
| --- | --- |
| Loretta Lynn: | (trying out a new song) It goes like this 'It'll over my dead body, so get out while you can't, then it drops down to 'cause you ain't woman to take my man!' |
| Doolittle "Mooney" Lynn: | Where'd you come up with the idea for that song, Loretta. |
| | |
| --- | --- |
| Patsy Cline: | People are wantin' to know who you've been sleepin' with to get on the Opry so quick. |
| Loretta Lynn: | Well, I never... who would say such a thing? |
| Patsy Cline: | All those girl singer who've been sleepin' with everybody and *still* ain't got on the Opry. |
| | |
| --- | --- |
| Ted Webb: | I ain't never gonna see you again. |
| Loretta Lynn: | Yes you will, daddy. |