Cobb
(1994)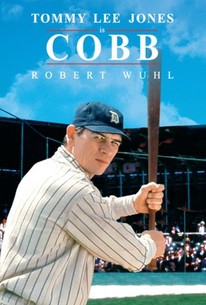 TOMATOMETER
AUDIENCE SCORE
Critic Consensus: Tommy Lee Jones's searing performance helps to elevate Cobb above your typical sports biopic; he's so effective, in fact, that some may find the film unpleasant.
Movie Info
What does a biographer do when the truth about his subject is far less pleasant than the legend? That is the moral dilemma at the heart of Cobb, which explores the lives of both baseball's premier hitter, Ty Cobb (Tommy Lee Jones), and the sportswriter assigned to set his story down, Al Stump (Robert Wuhl). Stump arrives at the Tahoe home of the dying Cobb to write the official life story of the first man inducted into the Baseball Hall Of Fame. He finds a drunken, misanthropic, bitter racist who abuses his biographer as well as everyone else. Stump must either candycoat his subject's life or present an accurate picture of a disgusting man who happened to become an American sports hero. The movie's biting focus on Cobb, ferociously performed by Jones, is not matched by its weaker representation of Stump, an imbalance which ultimately weakens the film's overall effect. ~ Don Kaye, Rovi
Audience Reviews for Cobb
½
Ty Cobb is in the top five of the greatest players in Baseball history. In fact, he was the first man elected to the Baseball Hall of Fame, but there has never been a film about his life. While Cobb was a great baseball player and one the toughest men to ever live, he was also an outspoken racist, who was quick to fight anyone, including his wife and kids. In 1960, a dying Cobb contacted sportswriter, Al Stump to ask him to tell his story. That is what I thought this critically acclaimed film would be, but it wasn't. While the title is Cobb, the film is really about Al Stump and what it was like to spend time with the great Ty Cobb, after he'd completely lost his faculties. While it wasn't the film I'd hoped it would be, Tommy Lee Jones gave the performance of a lifetime. What can you say about Jones that hasn't already been said? He is the best actor in Hollywood and can play absolutely anyone. Jones was very convincing, showing Cobb as a deeply troubled man who covered his shame with outrageous behavior. In recent years, since the passing of Al Stump, many people who knew Cobb have come out saying the book and film were overly exaggerated, but even so, the facts about Cobb are well documented. Cobb is not the film most people expected it to be and it ranks among the biggest flops in box office history. The story however is one you haven't heard before and is performed admirably by an all-star cast. This is not your typical baseball movie, but rather a moving look at a man who was destine to either be a legend or an inmate.
Todd Smith
Super Reviewer
½
Okay, so yes I know it doesn't have that many baseball scenes in it and it only details the last days of his life, but Tommy Lee Jone's performance is so great, that I'm surprised he didn't get oscar or golden globe nominations. If you understand who Ty Cobb was, his personality, or the way he acted won't like this film. I you want to know more about Cobb and the way he was than see this film. Also it includes great performances by other actors as old baseball players like Mickey Cochrane, Sam Crawford, and Jimmie Foxx. Robert Wuhl's performance as Al Stump was also great. The baseball scenes that are featured are all great.
Haven't seen it in a while, but I remember being quite taken with it.
Tim Salmons
Super Reviewer
Cobb Quotes
There are no approved quotes yet for this movie.