Cobra
(1986)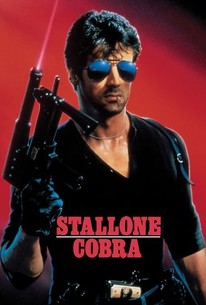 TOMATOMETER
AUDIENCE SCORE
Critic Consensus: A disengaged Sylvester Stallone plays the titular Cobra with no bite in this leaden action thriller, queasily fixated on wanton carnage and nothing else.
Movie Info
A renegade cop nicknamed Cobra (Sylvester Stallone) is assigned to destroy a serial-killer cult and protect the model (Brigitte Nielsen) who has the goods on them.
Audience Reviews for Cobra
Cobra has had the reputation of being a Dirty Harry rip-off, and in many ways it is. However, this is still an entertaining action movie that doesn't deserve the flack it received. I agree that the movie is imperfect and it does look dated, but nonetheless it is a fun movie. Director George P. Cosmatos, who is most famous for directing Rambo First Blood Part II and Tombstone, directs, and he knows how to make effective mindless movies that are fun. I really enjoyed this film, and though it's a clichéd affair, it's quite good in its own right. If you love 1980's action films that are low budget, this is a perfect film to enjoy. The performances are decent at best, but the action is what keeps you involved. The plot does suffer, but what do you expect from a low budget action feature? This is meant to be a popcorn flick, nothing more, and it succeeds at it very well. There were better films than Cobra during the 80's, especially the bigger productions such as Die Hard, but if you enjoy these films, then give it a shot. I found Cobra to be a flawed film with an average script, but it delivered in its action content, and if you're an action film fan, that's all that matters. I thought that Sylvester Stallone's performance was pretty good considering that this is such an overlooked film. He has had better roles, but in Cobra he's perfect for the part and it's hard to imagine someone else in the role. Like I said, this is a good movie that is flawed, but it more than makes up for the lacking material with its tense action. The film is cheesy at times, but it's what makes it all enjoyable.
This was a very good action film. Stallone is perfect in the starring role, the other actors do a fantastic job. The story may be a tiny bit confusing, but it's not bad. Really makes you hate the bad guys, and cheer on Stallone. The action is the best part. I really liked it.
Cobretti: Hey dirtbag, you're a lousy shot. I don't like lousy shots. You wasted a kid... for nothing. Now I think it's time to waste you!  "Crime is the disease. Meet the Cure." What an awful fucking movie this is. Cobra has to be one of the worst 80's action movies I have ever seen. There is nothing about it that I liked or that was in any way good. Everybody involved is horrible. Everyone. I don't hate Sylvester Stallone, but damn his screenplay for this is shit and his acting is not much better. But the worst thing about the movie has to be how cool Stallone and director George P. Cosmatos think it is. You have bad guys clanking axes together, Stallone walking around in aviators with the nickname Cobra. He's tough, he doesn't take shit, he doesn't play by their rules. Oh my God, I hate it. Cobra is a cop who does all the stuff no one else wants to do. He is ruthless and like Harry Callahan, plays by his own rules. He isn't afraid to kill the bad guys. There's a serial killer on the loose going by the very clever name of "Nightslasher." Give me a fucking break. So the whole movie is Stallone acting hardcore. He shoots a lot of people, there are car chases, he fucks a hot girl, and I sat watching, bored and completely irritated at just how bad the movie kept getting. It started bad, but it just kept growing exponentially in awfulness as it went. Another noteworthy element that shows how godawful this is, is that everyone involves believes this movie to be so badass and just oozing in testosterone. Then they play the douchiest 80's songs they could find. That's the kind of music I love to hear from a movie that is all about ruthlessness and brutality.  Do yourself a huge favor and don't watch this. Stallone made many, many bad movies over his career, but from what I've seen this takes the cake.
Melvin White
Super Reviewer
Cobra Quotes
| | |
| --- | --- |
| Lieutenant Marion 'Cobra' Cobretti: | This is where the law ends and I start. |
| | |
| --- | --- |
| Lieutenant Marion 'Cobra' Cobretti: | You're the disease, and I'm the cure. |
| | |
| --- | --- |
| Marion Cobretti: | Come on pig! |
| | |
| --- | --- |
| Night Slasher: | We're the future! |
| Marion Cobretti: | No, you're history. |