Cocktail
(1988)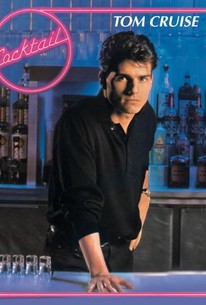 TOMATOMETER
AUDIENCE SCORE
Critic Consensus: There are no surprises in Cocktail, a shallow, dramatically inert romance that squanders Tom Cruise's talents in what amounts to a naive barkeep's banal fantasy.
Movie Info
After being discharged from the Army, Brian Flanagan (Tom Cruise) moves back to Queens and takes a job in a bar run by Doug Coughlin (Bryan Brown), who teaches Brian the fine art of bartending. Brian quickly becomes a patron favorite with his flashy drink-mixing style. Brian adopts his mentor's cynical philosophy on life and goes for the money. He leaves his artist girlfriend Jordan Mooney (Elisabeth Shue) for Bonnie (Lisa Banes), a wealthy, high-powered executive. Brian soon must chose between the two, as he evaluates his options. Scriptwriter Heywood Gould displayed his sense of humor when assigning the character name "Mr. Mooney" to Lucille Ball's real-life son-in-law, actor Laurence Luckenbill. Television fans of The Lucy Show will recall Mr. Mooney, played by Gale Gordon, as Lucy's fussy financial boss. The film is more memorable for the 17-song soundtrack and plays like a series of MTV videos. Cocktail was a big draw at the box office in 1988.
News & Interviews for Cocktail
Critic Reviews for Cocktail
Audience Reviews for Cocktail
½
What has Mr Cruise done to blokes over the years huh. He made us all wanna join the military so we could play with fighter jets and have a cool nickname, play/hustle nine-ball for a living, be a NASCAR driver...but at one point he also made all men wanna become bartenders. The image...behind a slick neon lit bar, fast money and easy sex, who would say no?. Well the plot in this ever so 80's flick is a cocktail of drama in itself!. Kicks off as a loose dumb story about a young guy who learns to be a bartender and throws bottles around awful looking swanky yuppie/suit type bars. From there we get cheating, backstabbing and escapism to Jamaica where a soppy love story breaks out. More backstabbing follows as we proceed to more heartbreak and the involvement with older rich women, much more fun then. Yet more breakup, death of a friend and eventual makeup leading to the obvious happy ending. A veritable rollercoaster of a plot which is totally uninteresting and rather cringeworthy. Watching Cruise pose and strut around with his wide toothy grin and hair that can't decide to be straight or curly is somewhat painful at times. The bar scenes are really quite crap looking back, I remember how people thought this stuff was sooooo cool (laugh out loud!). The cast is also another odd cocktail of choice. Aussie Bryan Brown who never really made much of a splash in Hollywood is a bizarre choice. Whilst Shue was never very attractive in my book and hardly sells her character, so dreadfully vanilla and dull!! geez!!. Brown is just totally uncool and annoying whilst Shue is a wet fish. Add to that the constant flow of hyped over acting and mugging by Cruise...oh god it makes you wanna vomit in your Singapore Sling!. A film for the ladies I think as the only things that interested me was a few female arse shots and the thought of what life would be like as a sex toyboy for a rich middle aged business woman (I would of stuck it out). In places this film is very awkward to watch, bordering on embarrassing. So completely and utterly dated (in a bad way) and serves no purpose other than a history lesson on 80's social gatherings and what people thought was cool employment at the time. A time when Cruise's ego was sky high alongside his over acting, mind you what's new.
Phil Hubbs
Super Reviewer
½
It's always an eye opening experience when you enjoy a film that you know you should hate. Such is the self hatred roller coaster of Cocktail, a very basic and uninspiring premise, also poorly executed, but way too much fun with its camp and cast of characters to incite the usual villagers with torches effect. Yes, the eighties were an especially grotesque time for cinema, including sex fueled debauchery, consumerism going hand in hand with Reagan economics, and some mind altering soundtracks and scores, all synth, all the time. Cocktail gravitates towards these pitfalls with great ease, but never quite makes it into awful, mostly because of the intriguing cast. The plot itself is nauseating, starting off as a great story of a bartender following his dream of wealth and power. Instead of climbing the ladder, or at least cultivating a "there's more to life than money" mentality, our protagonist becomes ever more unlikable, a lady's man so in your face it's an ugly portrayal. Somehow we bounce between New York City and Jamaica, but not in a timeline that makes any sense, including a romance with Elisabeth Shue's character. It's because Tom Cruise can pull off cocky in almost all roles, and Shue is the obliged girl next door, that this is a cult success. Even though the story, with all the rags to riches mentality, but none of the follow through, is based on Cruise's character, it just isn't juicy enough for the audience. There's so much materialistic buildup from our hero, that his subsequent behavior and that of the other characters is sickening, especially Shue's. Still, anything with Cruise in the eighties includes an eyeful of neon and that quirky grin, which is enough for any woman with an open mind.
Spencer S.
Super Reviewer
One of the best romantic films ever made. I'm in love with this film and Tom Cruise was exceptional.
Bethany Murphy
Super Reviewer
Cocktail Quotes
| | |
| --- | --- |
| Brian Flanagan: | "It always ends bad, otherwise it wouldn't end." |
| Brian Flanagan: | It always ends bad, otherwise it wouldn't end. |