Coco Chanel & Igor Stravinsky
(2010)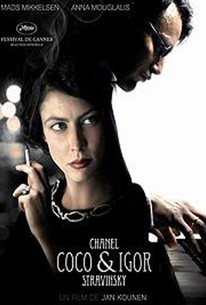 TOMATOMETER
AUDIENCE SCORE
Critic Consensus: It's well-acted and beautifully filmed, but Jan Kounen's dramatization of the affair between his famous subjects is curiously short on passion.
Coco Chanel & Igor Stravinsky Photos
Movie Info
At the Theatre Des Champs-Elysées, Igor Stravinsky premieres his The Rite Of Spring. Coco Chanel attends the premiere and is mesmerized. But the revolutionary work is too modern, too radical: the enraged audience boos and jeers. A near riot ensues. Stravinsky is inconsolable. Seven years later, now rich, respected and successful, Coco Chanel meets Stravinsky again - a penniless refugee living in exile in Paris after the Russian Revolution. The attraction between them is immediate and electric. Coco offers Stravinsky the use of her villa in Garches so that he will be able to work, and he moves in straight away, with his children and consumptive wife. And so a passionate, intense love affair between two creative giants begins.
News & Interviews for Coco Chanel & Igor Stravinsky
Critic Reviews for Coco Chanel & Igor Stravinsky
Audience Reviews for Coco Chanel & Igor Stravinsky
A soulless romance that lacks intensity and passion, with an atypically awkward Mads Mikkelsen and an insipid Anna Mouglalis trying hard to appear sophisticated but forgetting to look human - her character even mourns the death of her lover but we cannot see or feel her pain.
Carlos Magalhães
Super Reviewer
"Coco Chanel & Igor Stravinsky" starts in 1913 as a new ballet is being performed in Paris to a less than rapt audience. Instead of running away to stay one step ahead of the mob, composer Igor Stravinsky(Mads Mikkelsen) is bent on critiquing the dancers while Gabrielle 'Coco' Chanel(Anna Mouglalis) almost has an orgasm just from being in the audience. Seven years later, Stravinsky is one of many Russian exiles living in Paris. Chanel offers him and his family her country villa to stay at but out of pride he refuses. Changing his mind is worries over his wife Katerina's(Elena Morozova) health. "Coco Chanel & Igor Stravinsky" is an intriguing, handsomely produced and great looking bit of speculation centered around the collision of like-minded and obsessed individuals who would both change the world.(You have to figure Stravinsky is on the right track with the extremely mixed reaction he gets.) While I do applaud any movie that leaves things unsaid, it is more than a little disappointing how little passion is on display. Otherwise, I do not have much problem with the deliberate pace, even though the opening dance scene probably goes on too long. A couple of cinematic flourishes help offset that.
½
A beautifully shot, well-acted film, about two interesting, dynamic characters. This film was gorgeous, and passionate. Unfortunately the stately pace of the film descends at times into long, meaningful looks that are just too artsy for their own good. But it is still worth the time, because its design and performances do carry us through the occasional lulls. Do not expect much in the way of explanation of resolution about other affairs in his life (family, music, etc.). The movie is beautiful, but ends rather abruptly.
Cynthia S.
Super Reviewer
Coco Chanel & Igor Stravinsky Quotes