Cocoon: The Return
(1988)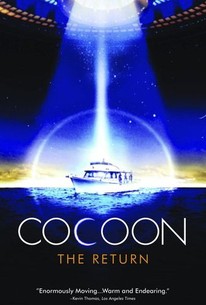 Cocoon: The Return Photos
Movie Info
Cocoon 2: The Return, like most sequels, relies a bit too heavily on one's familiarity with the first film. Without dwelling too long on Cocoon #1, we can observe that it ended with a group of senior citizens heading for the distant planet of Antarea, hoping to find a new, rewarding and elongated life. Cocoon 2 picks up the action five years later: The Antareans return to earth to check on the damage caused to their life-regenerating cocoons by earthquakes. Coming along for the ride are the elderly couples whom we met in the first film. Also carried over from the first Cocoon are young ferryboat captain Steve Guttenberg and gorgeous Antarean Tahnee Welch, who resume their interplanetary romance. Oldster Jack Gilford, whose beloved wife died in Cocoon, likewise finds romance in the form of Elaine Stritch. A secondary plot involves an insidious secret government plan to exploit the Antareans, which is foiled by sympathetic researcher Courteney Cox. ~ Hal Erickson, Rovi
Critic Reviews for Cocoon: The Return
Audience Reviews for Cocoon: The Return
½
This movie doesn't really have much purpose, especially considering the amazing ending to the first film, but it's a ok watch which is boosted by the performances from the original cast. They give it something of a heart and warmth, but overall it's not something that everyone should see.
Sophie Burgess
Super Reviewer
½
A pretty decent sequel.
Tim Salmons
Super Reviewer
It's hard to believe that "Cocoon 2 - The Return" isn't more popular. The main cast from the original "Cocoon" return to earth and plan to visit for a few days. While the main cast is visiting with their family and friends, some oceanographers find a cocoon in an ocean and take it back to research it in the labs. Once the others that are here visiting find out, they pledge to save it before they leave. While they're here on earth, they try to set Bernie up with a new woman, even though his dead wife, Rose, is still on his mind all the time. More than half of the ones that came back to earth decide to stay at the end of the movie. Alma Finley finds out she has a liking for taking care of kids while her husband, Joe, is out enjoying himself with the other guys. She gets hit by a car trying to save one of the kids from being hit, and ends up in the hospital on the verge of death. The doctor tells Mr. Finley that she probably won't make it through the night. That's when the most memorable scene from the movie takes place. Mr. Finley goes in there and with the help of some good special effects, sacrifices his life for his wife to live and take the job with the kids like she wanted to. Ben Luckett gets closer to his grandson by teaching him how to hit a baseball and to not listen to the other people telling him he can't do it, but to tell himself that he can. Ben's wife, Mary also doesn't want to go away from earth again. While "Cocoon 2 - The Return" might not be as funny or original as the first "Cocoon," it does have a few funny parts and succeeds in other ways. It's a lot more of a heartwarming movie than it is a comedy and it's pretty much a laidback version of the original "Cocoon." If you liked the original, I would definitely recommend getting "Cocoon 2 - The Return." Even if you didn't like the original, give this one a chance because it is a good movie. NOTE: That was my Amazon review from the year 2000. I have to say I don't remember much from this sequel, other than being amazed at the special f/x for the time, but I do remember feeling strongly about it for awhile after I saw it. I need and want to see it again.
Jason Owens
Super Reviewer
Cocoon: The Return Quotes