Code 46
(2004)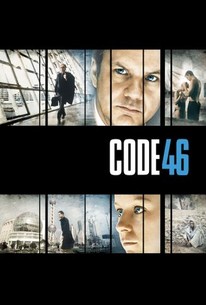 TOMATOMETER
AUDIENCE SCORE
Critic Consensus: Code 46 crafts an intriguing hypothetical future and populates it with characters who never engage, producing a slick sci-fi package without any humanity to power it.
Movie Info
In the not-so-distant future, a married man investigates a counterfeiter and ends up the perpetrator of an ethical crime in Code 46, the latest film from prolific British director Michael Winterbottom. Set against the backdrop of a technologically advanced Shanghai, where people are only allowed to travel between countries with official passports called "papelles," the film charts the efforts of Seattle native William (Tim Robbins) to get to the bottom of a contraband-papelle operation within the walls of a high-tech company that manufactures them. There he finds Maria (Samantha Morton), an enigmatic young woman who may or may not be selling the passports on the black market. William has a brief affair with Maria, which, despite his attempts to return home, causes him to become embroiled in an even bigger controversy in Shanghai.
News & Interviews for Code 46
Critic Reviews for Code 46
Audience Reviews for Code 46
Interesting premise and sci-fi world but the characters either lacked chemistry or their story just wasn't very interesting.
A case of: little known movie that would deserve a bit more attention. The most interesting aspect of this film is its futuristic setting. In the not too distant future people with 25% or more identical genes are not allowed to have children together. The violation of that is the Code 46, the punishment measures accordingly drastic. The world seems to consist of mega-cities, where a lot of languages melted into each other, and the impoverished outside. You can't go wherever or whenever you want without the right papers. There is cyberpunk technology that gives you skills, helping with your job or for your leisure activities. All this may sound like another "Blade Runner", but it's all explained very subtly while the story evolves and does not seem too far away from our current world. In this setting Tim "Shawshank" Robbins has to investigate a case of theft in a company in Shanghai. What exactly this firm does and what was stolen is not revealed right away, thanks to the amalgam of languages, especially when it comes to technical terms. The delicate relationship Robbins' character builds with suspect Samantha "Minority Report" Morton reminds of "Lost in Translation", two somewhat lonely souls connecting in a big, strange city. To say more about the plot would be spoiling. The use of music together with the outstandingly beautiful cinematography and interesting things the movie has to say about the gap between rich and poor and how mankind apparently fucked up its gene pool is very fascinating and interesting. There is no action, and the movie is rather slow, but with fine hints of humor and carried by two great actors. In the end, there are a lot of images staying with you: Morton dancing, the slow camera flights over the desert, the neat gimmicks of technology, the sobering solution to the story. Definitely worth seeing.
Beautiful, atmospheric, pitch-perfect, absorbing, astounding, and every other adjective to assign to greatness that one can fathom. It's what would happen if Lost in Translation had been written as a loose adaptation of 1984 and Brave New World. A must see for all students of film. One of the greatest films about dystopia/aspiring utopia as well as a classic romance.
_kelly .King
Super Reviewer
Code 46 Quotes
There are no approved quotes yet for this movie.