Code of Silence
(1985)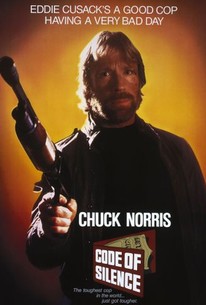 Movie Info
Not to be confused with the 1960 film of the same name, this fast-paced karate action flick stars Chuck Norris, still riding high on his karate film successes of the early '80s, and several years away from starting his popular Walker: Texas Ranger TV series. In this story he plays Eddie Cusak, a painfully honest police sergeant who just misses pulling off a drug bust -- it seems another gang got there before him, wiped out the competition, and made off with a fortune in white powder. A bad move -- this means nothing less than all-out war between the two rival gangs, with the police caught in the middle. Cusak has other problems as well, one of his team killed an innocent bystander during the raid and he is duty-bound to squelch any cover-up. With enemies on both sides of the law, he then has to take on the drug cartel with nothing more than cannons, machine guns, shotguns, pistols, a robot car, and other sundry artillery to help him out.
Critic Reviews for Code of Silence
Audience Reviews for Code of Silence
½
Before Nico:Above the Law, Under Siege and the Fugitive, Andrew Davis got his start with Chuck Norris in his hey-day with Code of Silence, a Chicago gangster/cop flick with more than passing semblance to Seagal's Nico. Chuck play honest tough cop whoes having a terrible day, dealing with a possible conspiracy in his own unit to cover up a friendly fire incident, a new rookie under pressure, and two warring mob families ready to take the fight to the streets of Chicago, and noone is talking, and Chuck is pretty much on his own as the mobsters number against him, and his fellow police officers close their ranks around him to protect one of their corrupt own. I guess Im drawn to this is because of Andrew Davis' down to earth raw film making infused with good old action and the 80's theme. Chicago comes alive again as it had with Nico, an above average plot played out okay, this is defintley an underrated 80's classic, the unloved grandaddy of cop thrillers which should deserve appropriate recognition. With Chuck leading the way and supported by the usual bad guy in Henry Silva (Nico Above the Law) and the well known Dennis Farina, its a good old fashioned cop thriller with better one liners, a very funny moment of two idiots trying to stick up a "cop" bar and Chuck pretty much doing what he does best. enjoy!
½
One of Chuck Norris's better films. Fast, furious stuff which may well be implausible and formulaic, but is so well-handled you don't mind.
Dean McKenna
Super Reviewer
Code of Silence Quotes
There are no approved quotes yet for this movie.