Code Unknown (Code inconnu: Récit incomplet de divers voyages)
(2000)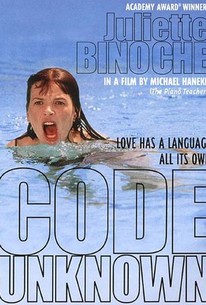 Movie Info
German-born filmmaker Michael Haneke continues the bleak, formalist experimentation of his 1994 breakthrough 71 Fragments of a Chronology of Chance with this similarly fragmented tale of racism, intolerance, and hatred in modern-day Paris. The focus of the narrative is split between three sets of people: the French actress Anne (Juliette Binoche), her husband and in-laws; a Romanian woman, Maria (Luminita Gheorghiu), who struggles to raise money for her family back home; and Amadou (Ona Lu Yenke), a teacher for the deaf who is at odds with his resolute African clan. The catalyst for the stories begins on a streetcorner, where Anne's brother-in-law Jean (Alexandre Hamadi) insults Maria, who is begging for change; incensed, Amadou picks a fight with Jean, resulting in negative repercussions for the triptych of protagonists. Throughout, Haneke punctuates the action with his unique editing and use of sound. After its Cannes debut, Code Inconnu made its North American premiere at the 2000 Toronto International Film Festival. ~ Michael Hastings, Rovi
News & Interviews for Code Unknown (Code inconnu: Récit incomplet de divers voyages)
Critic Reviews for Code Unknown (Code inconnu: Récit incomplet de divers voyages)
Audience Reviews for Code Unknown (Code inconnu: Récit incomplet de divers voyages)
½
An intelligent and post-structuralist narrative exercise that, shot in a series of single-take fragments, plays with the structural codes that form the basis of storytelling to reflect how people can't understand each other in this society with their very own signs (languages, gestures, cultures, moral values).
Carlos Magalhães
Super Reviewer
½
A strange tale, if indeed it can be called that. The subtitle, "Incomplete Tales of Several Journeys" sums it up pretty well. Juliette Binoche was lovely and carried the film. The rest was just window dressing and had no obvious connecting narrative, or meaning, beyond each individual scene. The use of jarring jump cuts from one scene to the next emphasized the discontinuity and left one somewhat bewildered as to how it all fit together. That obviously was the director's intention, but it just didn't work for this viewer. If this was supposed to spotlight the way the various characters interconnected, then it succeeded on only a most superficial level. Their lives may have intersected briefly, but one could hardly call it any more than that. Quite disappointing overall.
Mark Abell
Super Reviewer
Very complex intertwining stories about life in modern society. Sort of like Crash, only for Adults.
Ken Stachnik
Super Reviewer
Code Unknown (Code inconnu: Récit incomplet de divers voyages) Quotes
There are no approved quotes yet for this movie.