Coffy
(1973)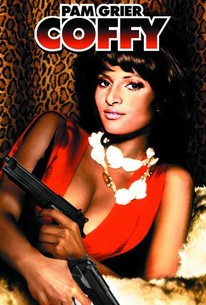 TOMATOMETER
AUDIENCE SCORE
Critic Consensus: Pam Grier brings spunk and vinegar to Coffy, supported by director Jack Hill's combustible mixture of authentic grit and salacious thrills.
Movie Info
After her sister becomes a heroin addict, a nurse (Pam Grier) takes gun in hand and goes undercover to track down the dealers responsible for her sister's condition.
News & Interviews for Coffy
Audience Reviews for Coffy
½
While this film isn't 100% great as far as technical stuff, or acting, it definitely promises what it delivers. This is one of the most famous, influential, and noteworthy blaxploitation films on the 1970s. Although she had film roles before this, this is the film that made Pam Grier's career. Without this character (and a few other lead female roles from otehr blaxploitation films), there wouldn't be any badass female action heroes like Ellen Ripley, Sarah Connor, or Lara Croft. It's that simple. Yeah, this movie is a little cheesy, and features some questionable morals and actions, but it's hard not to like a sassy tough chick who fights dirty by hiding razor blades in her afro. The music kicks ass too. I'm surprised the soundtrack for this isn't as well known as the ones for Shaft and Super Fly. If you like urban action movies, blaxploitation films, revenge flicks, and have a thing for 70s cinema in general, you really need to see this if you haven't done so already.
Chris Weber
Super Reviewer
If you only watch one blaxploitation movie make it this one. There is much fun to be had in many films of the genre, but here the central performance by Pam Grier is monumental. She may not be the greatest actress in the world, but what presence, and when the big boys fall for her at the wink of an eye, it is believable. Perhaps at the end it is a little over the top, that on such a serious mission a guy would pause for a quickie, but then?. This measured, involving and exciting. There is much violence, including the most wonderful massed cat fight, and much gratuitous violence. In fact during the aforementioned cat fight, all the girls involved have their breasts spill out one after the other. The dialogue is fine and scenes are not overlong as they can be in this genre. Also, the costumes have to get a mention and impressive as Grier's are it's the top bad boys that really come up trumps, as for the top pimp's jump suit, in yellow, what can I say?
Cassandra Maples
Super Reviewer
Outside of Car Wash, this was my first foray into blacksploitation, much to my shame. So with that, I revel in just how fantastically awesome Coffy is. This movie won't be for everyone, but for outrageous cinema or grindhouse fans, it's a feast for the senses. Pam Grier stars as the sexy bad-ass mutha Coffy, out for revenge against the scum of society. The acting here is about what you'd expect from these sorts of movies: mostly campy and WAY out there, but fun and enjoyable. Don't expect any Oscar-worthy performances. Just enjoy the ride. On a sidenote, keep an eye out for Allan Arbus, who fans may recognize as the infamous Sidney Freeman from M*A*S*H. He popped up in the main cast and I was thinking "Sidney, my man!" :D The score is the typical 70's blacksploitational fare; lots of wah wah guitar and smooth black voices. I love it and can't get it enough of it, particularly the pimp's theme which repeats 'George' over and over again. Hilarious and groovy. I can't really find any faults with this flick because it's not meant to be anymore than what it is, and that's ok because I enjoy the hell out of it. Pam Grier kicking the underworld's ass, all the while being sexy AND bad, but most people won't get it. It's blacksploitation, action, sexiness (there are tits popped out in a LOT of scenes), cheesy dialogue, explosions, guns and car chases. You'd be hard-pressed not to have a good time with this one.
Tim Salmons
Super Reviewer
Coffy Quotes
There are no approved quotes yet for this movie.