Cold Mountain
(2003)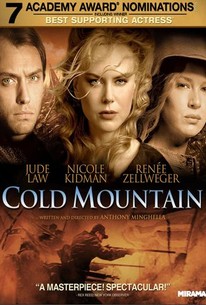 Movie Info
Inman, a Civil War Confederate soldier, is seriously wounded in battle before heading home to North Carolina to his pre-war beloved, Ada. In his absence, Ada--with the help of a young drifter named Ruby--is desperately trying to hold onto the farm of her deceased missionary father. Inman's long journey home takes him through the crumbling confederacy, as he meets people of all walks of life who want to both aid and hinder his mission.
Critic Reviews for Cold Mountain
Audience Reviews for Cold Mountain
½
Not far into the film there is a scene so incredibly terrifying and mind-blowing, depicting the pointlessness and cruelty of war like only the opening of Saving Private Ryan managed so far. From there, we follow the beginnings of a love story in flash backs while Law is trying to make his way back to Kidman from war. The people he encounters and situations he has to endure are incredibly dire and pessimistic, leaving little space for hope. The film is very beautifully shot and the story is engaging even through some slower parts. Whether you like the ending or not is for each to decide, I suppose.
If hate sends men to war, then it must be love that brings them home. Good Film! It's beautifully crafted, assembled, and absolutely mesmerizing in all aspects of film making techniques and style. The music score and soundtracks are so appropriate locked into the events and the moods of the characters. And the film's title? It does project its allegorical appeal. This Civil War saga addresses romance, friendship, and the ravages of war--both in the field and on the home front. Captures the horrors of war for both those fighting it, and for those left behind. This is a tale of hope, longing, redemption, second chances, and faith.
½
Charles Frazier's distinctly American take on the personal ravages of the Civil War and what small hope may be salvaged from it's incalcuable wreakage, gets lost somewhat in this curiously foreign view of his simple yet elegant piece (Why are all the principals from overseas? Were there no Americans with vision or chutzpah enough to take this on?) We are left then with the shoestring romance of two lonely strangers separated by war who endeavor to overcome its apparent difficulties and return to each other's side. This is capably performed, undoubtably, yet the ghost of Frazier's intent is manifest by its absence.
Kevin M. Williams
Super Reviewer
Cold Mountain Quotes
| | |
| --- | --- |
| Ruby Thewes: | This world won't stand long. God won't let it stand this way long. |
| | |
| --- | --- |
| Ruby Thewes: | Have you been shot? |
| Inman: | Not lately. |
| | |
| --- | --- |
| Ada Monroe: | I would have followed you anywhere... to Mongolia. |