Cold Pursuit
(2019)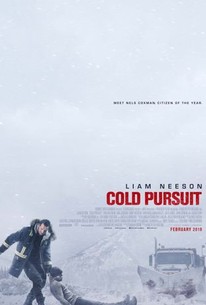 TOMATOMETER
AUDIENCE SCORE
Critic Consensus: Cold Pursuit delivers the action audiences expect from a Liam Neeson thriller -- along with humor and a sophisticated streak that make this an uncommonly effective remake.
Movie Info
COLD PURSUIT, an action thriller infused with irreverent humor, stars Liam Neeson as Nels Coxman, a family man whose quiet life with his wife (Laura Dern) is upended following the mysterious death of their son. Nels' search for justice turns into a vengeful hunt for Viking (Tom Bateman), a drug lord he believes is connected to the death. As one by one of Viking's associates "disappear," Nels goes from upstanding citizen to ice-cold vigilante, letting nothing -- and no one -- get in his way.
Critic Reviews for Cold Pursuit
Audience Reviews for Cold Pursuit
FARGONE - My Review of COLD PURSUIT (3 Stars) Every New Year, we can always count on two things - resolutions and the fact that Liam Neeson will kill somebody. Both tend to have success early on, but eventually peter out. Still, Neeson has developed a cottage industry out of avenging the tragic circumstances surrounding kidnapped or murdered offspring. COLD PURSUIT, a remake of the 2014 Norwegian feature, IN ORDER OF DISAPPEARANCE, and directed by the same person, Hans Petter Moland, seems at first glance like the trope-riddled output of so many TAKENS and NON-STOPS, but itï¿ 1/2 1/2 1/2(TM)s refreshingly different in tone. This doesnï¿ 1/2 1/2 1/2(TM)t necessarily make it good, but at least it tried. Neeson stars as Nels Coxman, an ordinary snowplow driver in Kehoe, Colorado, who seeks to avenge the murder of his son in what appears to be a drug-related crime. Unhappily married to Grace (Laura Dern), who writes my favorite ï¿ 1/2 1/2 1/2Dear Johnï¿ 1/2 1/2 1/2ï¿ 1/2 1/2ï¿ 1/2? letter of all time in this film, Nels abandons all reason and family to kill his way through a huge roster of bad folks in order to confront the ultimate Big Bad. Its snowy surroundings, fur-lined jackets and small town whimsy makes for more than a passing resemblance to FARGO, but without the layered wit or memorable characterizations. Still, the high body count (complete with a fun tittle card popping up every time someone meets their make), quirky structure and a handful of oddball performances make this an improvement in what has become Neesonï¿ 1/2 1/2 1/2(TM)s tired genre of choice. Unfortunately, Neeson himself goes the Bruce Willis route here and barely puts any effort into his own role. Early on, when his character puts a gun in his own mouth, you donï¿ 1/2 1/2 1/2(TM)t feel even a hint of anguish. Further, Neeson practically disappears in the second half of the film, handing it over to Tom Bateman, who chews the scenery and then some as ï¿ 1/2 1/2 1/2Vikingï¿ 1/2 1/2 1/2ï¿ 1/2 1/2ï¿ 1/2?, the aforementioned big bad guy. I enjoyed him, but next to Neesonï¿ 1/2 1/2 1/2(TM)s nearly somnambulant efforts, heï¿ 1/2 1/2 1/2(TM)s tonally at oddsï¿ 1/2 1/2 1/2but still fun. Most of the film involves Neeson finding a bad guy, getting the name of his superior, and then killing themï¿ 1/2 1/2 1/2.and so on and so on. Most of the kills arenï¿ 1/2 1/2 1/2(TM)t all that interesting, with the exception of one involving a blow-up couch and the final one, which is the closest this movie has to FARGOï¿ 1/2 1/2 1/2(TM)s wood chipper. The second half introduces a counterplot to at least complicate matters, but it mainly serves to allow for a bigger pileup of bodies. Thereï¿ 1/2 1/2 1/2(TM)s really not much more to the story than that, but thereï¿ 1/2 1/2 1/2(TM)s also something goofily endearing about the whole thing. I found myself laughing a lot, appreciating how invested the filmmakers had become in giving characters a quick introduction before killing themï¿ 1/2 1/2 1/2lather, rinse, repeat. I also loved the cinematography by Philip ï¿ 1/2 1/2 1/2~gaard which fills the frame with snowy mountains, a giant waterfall, and awesome shots of the plow clearing roads with giant walls of snow left in its wake. Itï¿ 1/2 1/2 1/2(TM)s a shame you donï¿ 1/2 1/2 1/2(TM)t care about any of the characters or that they barely care about themselves. Something like this should only be 90 minutes long, but at 118 minutes, it wears out its welcome and its audience. It makes you appreciate the Coen Brothers even more for being able to make genre films with real bite and real specificity. All told, I applaud Neeson for trying to make a film which stretches the confines of what heï¿ 1/2 1/2 1/2(TM)s been doing of late. Heï¿ 1/2 1/2 1/2(TM)s a fantastic actor who rarely gets to show off his sense of humor. With COLD PURSUIT, it feels as if heï¿ 1/2 1/2 1/2(TM)s lending his name to something fairly funny without actually getting to BE funny himself. You can do it Liam! Kill us with comedy next January! I know you have a little Marge Gunderson in you!
Glenn Gaylord
Super Reviewer
½
In light of Liam Neeson's recent politically incorrect gaffe, it follows suit that Cold Pursuit while visually literate is racially stupid. Having seen director Hans Petter Moland's original Norwegian adaptation In Order of Disappearance, I was intrigued to see how Hollywood-ized his American take on the story would be. This version is more convoluted with too many characters, and it's too long comparatively. Neeson certainly sells the character of a snow plowman turned mob assassin better than Stellan Skarsgard, but the movie suffers nearly every time it cuts away from him to showcase the idiosyncrasies of a million bit characters, many of whom disappear mere minutes after their introductions. To avenge the murder of his son, Neeson kills several gang members while trying to find who gave the orders, and this provokes a turf war amongst a rival mafia group. In the Norwegian film, the rival gang are Serbians, but unfortunately Moland decided to change those characters to Native Americans here. Much like Martin McDonagh's take on American racial politics in Three Billboards Outside Ebbing, Missouri, Cold Pursuit demonstrates why white European men should leave certain subjects in better qualified hands. There are many ways to approach the legacy of oppressed people in film, but using them as props in your edgy, violent crime dramedy isn't one of them. It's surprising too that Moland is so oblivious to this as he obviously has a firm grasp on visual storytelling, and there are some very clever moments in the film. There's some really good camera work, and it rarely fails to entertain as the humor is more overt this time around. There is just such a severe lack of focus on the core elements of the film like death as the great equalizer and the transcendent importance of fatherhood that clearly vie to be the central thematic tenets, but I suppose when you spend over half a decade focusing on an adaptation twice it may be understandable to lose perspective on what you're doing.
K Nife Churchkey
Super Reviewer
Cold Pursuit Quotes
There are no approved quotes yet for this movie.