Cold Souls
(2009)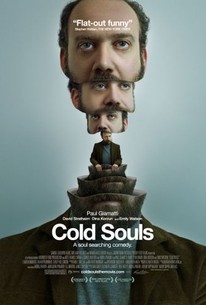 TOMATOMETER
AUDIENCE SCORE
Critic Consensus: Straddling existential drama and surrealist comedy, Sophie Barthes debut feature is beautifully shot and full of inventive quandaries.
Movie Info
Writer/director Sophie Barthes crafts this metaphysical tragicomedy, which straddles the line between reality and fantasy, set in a world where souls are extracted from humans and traded as commodites. Paul Giamatti is an anxious New Yorker who finds the answer to his deep-rooted malaise after stumbling upon an article about a high-tech company that claims to have found a solution to human suffering. By deep-freezing souls, claims the company, they can give their customers a life free from fear, doubt, and worry. Eager to free himself from the emotional burden of angst, Giamatti eagerly enlists their services. Trouble arises, however, when Giamatti's soul is swiped by a soul-trafficking "mule" who in turn gives it to a no-talent Russian soap opera actress. Now, in order to get back the soul that is rightfully his, Giamatti must make the arduous trip to St. Petersburg, along the way discovering that the true key to happiness isn't the absence of pain, but the ability to experience the entire spectrum of emotion and cherish the things that really matter. ~ Jason Buchanan, Rovi
News & Interviews for Cold Souls
Critic Reviews for Cold Souls
Audience Reviews for Cold Souls
Another interesting idea lags under the weight of its own cinematic soul. In a Kaufmanesque concept (see Being John Malkovich), Paul Giamatti plays a film version of himself (and gee, he's pretty good at it... ha ha ha). As we enter into the world of first time writer/director Sophie Barthes we see Giamatti struggling to find the right "voice" for Uncle Vanya (and somehow I wonder why it is that Chekov still gets all the juice on the boards... if I see another revival of Vanya or Cherry Orchard I'm going to slit my wrists or read some Russian Poetry, whichever kills me first!). Of course the above little asides are the kind of wry, sarcastic humor that this pseudo satire cashes in on, but for me, the satiric moments were too few and came only after slogging through some tedious bits of unimaginative setup and scenes that were meant to be funny (in that satiric kind of way) but simply weren't as far as I'm concerned. The fresh idea of the film (which I wish could have been better handled) has to do with the ability to extract the soul from a human body (and replace it with someone else's if desired). Giamatti perceives that he is so weighed down by the heaviness of his own soul that he decides to replace his with the soul of a Russian Poet (all the better to get inside his role of Vanya, he surmises). From this premise the film flitters around, allowing for a nice bit of satire when the Russian mob gets involved in the soul selling business; but while watchable, I was neither grinning from the dark humor, nor glued to the chair by any kind of drama. This yin/yang of drama/dark comedy is at odds with itself as some of the more absurd moments derail any dramatic value. Similarly Barthes doesn't seem quite sure which route to take - the first half seems serious (and fails as a dramatic engine), while the second half, and especially when the film moves to St. Petersburg, seems much more tongue in cheek (and it is here that the moments of inventive dark satire occur). I really wanted to enjoy this film and am going to give it a passing grade just for the concept alone - but as the closing credits rolled I sat back and wondered at how much more could have been said and how so many of the satiric moments could have either been better evolved or left on the cutting room floor. At least there weren't three sisters sitting in a broken down manor house saying that they simply must go to Moscow.
paul sandberg
Super Reviewer
If you mix vintage Woody Allen with some of the works of Charlie Kaufman (especially Being John Malkovich), then you basically get this movie...and that's not a bad thing, especially since this film didn't feel like a total rip-off. Actor Paul Giamatti plays an actor named Paul Giamatti who, while rehearsing for Chekhov's Uncle Vanya, feels his soul become burdened under the weight of the material. To remedy the situation, he goes to a company that extracts and stores people's stores. You can also swap out your soul for someone else's if you so desire. Now soulless, Giamatti is able to get through the play, but now he also finds life without his own soul more intoelrable than before. He tries to go get his soul back, but through a snafu, his soul has been taken and sold on the black market and is now being used by a Russian soap opera actress in St. Petersburg. With the help of the "soul mule" Giamatti goes to Russia to reclaim what's his, in a new twist on the term soul searching. This is a wild concept, and, though the end result is pretty polarizing, I found it to be a lot of fun. It is a very cold and clinical film, and while there is humor, it is extremely dry and dark in nature. There are a couple of parts that are legitimately laugh out loud funny, but the bulk of the humor is very offbeat. What keeps the film from beign a total rip-off is that things are more accessible here than they are with some od Kaufman's works. Sure, there's his influence on the material, but it definitely holds up as being it's own kind of thing. It also helps that the actors give some wonderful performances, especially Giamatti who has to portray himself with and without his own soul (and yes, there are differences, no matter how subtle). David Strathairn is also fun as the head of the soul extraction company, and for me it was nice to see Lauren Ambrose as the doctor's assistant, though I wish she'd had more screentime and had mroe to do. Emily Watson adds some weight to the proceedings in a small but important role as Paul's wife, but for me, the two standouts other than Giamatti are Dina Korzun as the mule and Katheryn Winnick as the Russian actress. All in all, this is an enjoyable and really well done film. I may be overly enthusiastic, but I can't help it. The film just really spoke to me, and was just the thing I needed to watch after a sleepless night before a super long day at work.
Chris Weber
Super Reviewer
Fun one time through. I feel like they could have done more with it (too bad it wasn't written by Charlie Kaufman).
Curtis Lilly
Super Reviewer