Cole
(2009)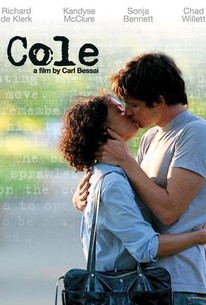 AUDIENCE SCORE
Critic Consensus: No consensus yet.
Movie Info
A young man has to choose if his loyalties lie with his family or the woman he loves in this independent drama. Cole (Richard de Klerk) was born and lives in a small town in British Columbia, where he helps his sister Maybelline (Sonja Bennett) run the local gas station and looks after his mother (Rebecca Jenkins), who is slipping into senility. Cole also keeps an eye on Bobby (Chad Willett), Maybelline's live-in boyfriend who has a vicious streak and sometimes beats both her and Rocket (Jack Forrester), her young son fathered by a previous boyfriend. While Cole has plenty of drama to deal with at home, he dreams of becoming a writer, and he decides to hone his craft by enrolling in a college three hours away. In one of Cole's writing classes, he meets Serafina (Kandyse McClure), who is everything Cole isn't -- confident, wealthy and casually beautiful. Also unlike Cole, Serafina is black, but that doesn't dull the mutual attraction between them. But as much as Cole cares for Serafina, he's not sure if there's a place for her in his old hometown, and he's torn between his desire to start a new life in the city and his need to take care of his family and protect his sister and nephew. Cole was an official selection at the 2009 Toronto International Film Festival.
Critic Reviews for Cole
There are no critic reviews yet for Cole. Keep checking Rotten Tomatoes for updates!
Audience Reviews for Cole
½
Cast: Richard de Klerk, Kandyse McClure, Sonja Bennett, Chad Willett, Stephen E. Miller, Rebecca Jenkins, Daniel Boileau, Michael Eisner, Jack Forrester Director: Carl Bessai Summary: Looking to escape from his tiny town, aspiring writer Cole (Richard de Klerk) enrolls in a university class in the city, despite the three-hour commute. He falls for fellow student Serafina (Kandyse McClure), a black woman whose controlling parents don't approve of the match. Both are hoping to chart their own course in life, but can Cole really abandon his family's business and a sister who needs protection from her violent husband? My Thoughts: "There are a couple unanswered questions to this story. You never really find out what happened to his mother to make her the way she is. Cole says that his mother saved him so your left to assume that may have something to do with it, but its never confirmed. Cole is a very likeable character and who some could relate in the terms of sacrificing your hope and dreams to take care of your family. Cole sister Maybelline doesn't approve of her brother taking the college class for more jealously reasons then family ones. She is stuck with an abusive husband, two children, a mother who's in a somewhat comatose state, and a family gas station to run. So I can see why she would be upset with him having the chance to follow his dreams. But out of the entire film her story is the most frustrating one of them all. She continues to stay with a man who beats her, says some off color things about her son who is by a different man and who happens to be interracial, who has no job and has a ridiculous plan of having a car wash in a town with less then four hundred people in it, and who does some more awful things in the film. After all that she continues to want this man and even does the unthinkable for any mother to do. I won't say what in case you see the film, but it's going to be obvious and is in the ending. Cole is a great writer and impresses his teacher who tries his best to change Cole's mind into staying when he's unsure of quiting the class. Cole meets Serafina in his writing class and it's not your typical pairing with her being wealthy and him a redneck from a very small town. The role has been played before. Some things happen in their relationship that easily could end things. See the film to understand. I feel like if some of the unknown answer's to the questions that were left in the air were answered then I would have rated the film higher. The acting was good by most and I was impressed by Richard de Klerk. For him being an unknown actor to me, he was a strong lead character and carried the movie."
♥˩ƳИИ ƜѲѲƉƧ♥
Super Reviewer
Cole Quotes
There are no approved quotes yet for this movie.