College Swing
(1938)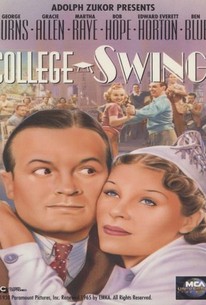 AUDIENCE SCORE
Critic Consensus: No consensus yet.
Movie Info
It's hard to go wrong with such stars as Bob Hope, Burns & Allen, Martha Raye and Edward Everett Horton, and College Swing doesn't-go wrong, that is. The film begins in 1738, when a pact is drawn up between the Alden family and a highly respected Colonial college: If any female member of the family can pass her college exams within a 200-year period, ownership of the institution will be turned over to her. Comes 1938, and the last of the Alden girls, giddy Gracie Alden (Gracie Allen, of course) hires glib-tongued tutor Bud Brady (Bob Hope) to help her pass her exams. She also tries to win over no-nonsense professor Hubert Dash (Edward Everett Horton), who has no intention of handing his college over to a blithering idiot like Gracie. Once she has inherited the place, however, Gracie turns it into a jumpin'-jivin' joint, complete with jitterbugging students, swing bands and remote radio broadcasts. Though George Burns' role is nearly nonexistent, he does get to indulge in his patented cross-talk with Allen. Others contributing to the fun are Ben Blue, Jerry Colonna, Betty Grable, and Grable's then-husband Jackie Coogan. Highlights include Allen's spirited Irish jig and her endearing song duet with Edward Everett Horton. College Swing is the sort of high-powered, all-star entertainment that is virtually impossible to reproduce today.
Critic Reviews for College Swing
All Critics (2) | Fresh (1) | Rotten (1)
The story lightly skips a couple of hundred years, and we are right in the midst of one of those college musicals which are as completely unlike anything in college as they are exactly like each other.
Cheerful musical, with inventive Raoul Walsh style and nice touches of fantasy images.
Audience Reviews for College Swing
½
This movie has great actors, but they don't really work together, so it's like watching two different movies sometimes. The ending is the best part.
College Swing Quotes
There are no approved quotes yet for this movie.