The Color of Money
(1986)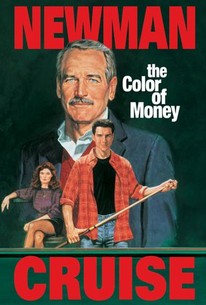 TOMATOMETER
AUDIENCE SCORE
Critic Consensus: That it's inferior to the original goes without saying, but Paul Newman and Tom Cruise are a joy to watch, and Martin Scorsese's direction is typically superb.
The Color of Money Photos
Movie Info
Oscar-nominated in 1961 for his performance as pool hustler Fast Eddie Felson in The Hustler, Paul Newman won that award a quarter century later when he reprised the role in The Color of Money. At the end of The Hustler, Felson was banned for life from playing the game professionally. In the intervening years, he has become what the despicable George C. Scott was in the 1961 film: a front man for younger hustlers, claiming the lion's share of the winnings. His latest "client" is arrogant young Tom Cruise, who is goaded into accepting Felson's patronage by his avaricious girl friend Mary Elizabeth Mastrantonio. Cruise learns not only the refinements of the game, but also the dirty trickery that will help him lure in the suckers. As Cruise becomes successful on these terms, Felson seethes with jealousy, hitting the bottle and carelessly allowing himself to fall victim to another hustler. He tells Cruise to get lost, and vows to make an honest comeback. It is inevitable from this point onward that the younger and the older player will square off in a game for the biggest stakes of all: Fast Eddie Felson's self-respect. Both the original Hustler and The Color of Money were based on novels by Walter Tevis.
News & Interviews for The Color of Money
Critic Reviews for The Color of Money
Audience Reviews for The Color of Money
If you liked The Hustler, you'll like this movie, it's pretty much the same movie. I found both of them boring. Sure they're hustlers and there's some drama in it, but watching people play pool for over an hour of the film isn't my cup of tea.
Tend to forget this was a sequel to the film 'The Hustler', probably because it feels like a Cruise vehicle for his young obnoxious over acting and toothy grin. To be brutally honest I've never seen a film with such a huge amount of sulking, pouting and tantrums as in this film haha. Cruise along with Newman spend most of the film either screaming at each other or storming off in a huff! makes you wonder really. Personally I don't think there is much here that isn't overly original, the plot is virtually 'The Karate Kid' but with pool or 9-ball. Its funny how almost every film Cruise has done he's some kind of 'top gun' in whatever the film is about. In this we have to put with the most dreadful performances of cringeworthy over acting as Cruise dances and struts around pool tables defeating all challengers showboating as he does so. The perfect role for Mr Cruise then. The other two main cast members are second fiddle to Mr Cruise's antics but do their best. Newman seems subdued and bored to me, he looks the part still of course, the wardrobe for his character is great, the perfect lounge lizard pool shark type. Mary Elizabeth Mastrantonio is actually really good as Cruise's girlfriend and probably gives the best performance of the three. Her quiet role is the backbone or foundations for the whole plot as she keeps both male ego's in check, somewhat. Being a Scorsese film it looks sweet as a nut, everything looks damn realistic from the bitterly cold looking locations to the smoky seedy all male pool halls. Despite that the film stretches for that epic Oscar level but really falls short, visually its great but Cruise lets it down for me as does the basic plot. Also gotta say that I hated all the negativity from the characters in this film, sure its the plot but it just left me feeling annoyed and fed up with watching them.
Phil Hubbs
Super Reviewer
½
Eddie Felson: Money won is twice as sweet as money earned.  "The Hustler isn't what he used to be, but he has the next best thing: a kid who is." Might as well get it out of the way early; The Color of Money isn't as good as The Hustler. I didn't expect it to be, so who cares. This takes up Fast Eddie Felson's story 25 years after the events of The Hustler. If any man could make a sequel to a masterpiece 25 years later, it would be Martin Scorsese and he does it admirably. It isn't his best, but it is still a really good movie. All that you really need to know is Paul Newman is back in the role of Fast Eddie and that is all that really matters. This isn't a slap in the face to The Hustler. It's just a good continuation.   Eddie Felson was banned from playing pool professionally, so for the last 25 years, he has been selling liquor. He's in a bar when he sees Vincent, a cocky but immensely talented young pool player. Eddie takes him under his wing and on the road, where he teaches him how to hustle. The story doesn't really go how you think it would. Scorsese takes detours along the way, but by the end, it gets where you thought it would. I liked a few of the unexpected things in the story and I disliked a few, but overall I liked where Scorsese took us with this continuation. Could it have been better? Yeah, but as it is, it isn't too bad.  Now is where I admit that this is lesser Scorsese. This is no Raging Bull, but I'll take lesser Scorsese over just about anybody's best. This is a project I'm sure Scorsese loved and one that he probably wanted to do more for himself then for an audience. He throws in his signature character driven plot and all the little things that make watching his films so great. The cast is good, the cinematography is good, the soundtrack is good, and the direction is good. The only thing that pulls the movie down at all is that it is living in the shadows of an all-time classic. You can't watch the movie and not end up comparing it, at least a little, to The Hustler.  I really enjoyed The Color of Money. It isn't a masterpiece, but it does feature terrific performances from Paul Newman and Mary Elizabeth Mastrantonio, plus an okay one from Tom Cruise. Watch this for what it is and don't criticize it too heavily based off of The Hustler. That's a comparison not many would win. 
Melvin White
Super Reviewer
The Color of Money Quotes
| | |
| --- | --- |
| Eddie Felson: | You gotta have two things to win. You gotta have brains and you gotta have balls. Now, you got too much of one and not enough of the other. |
| | |
| --- | --- |
| Eddie Felson: | Money won is twice as sweet as money earned. |
| | |
| --- | --- |
| Eddie Felson: | Nine Ball is rotation pool. The balls are pocketed in numbered order. The only ball that means anything, that wins it, is the 9. Now, the player can shoot eight trick shots in a row, blow the nine and lose. On the other hand, the player can get the 9 in on the break, if the balls spread right, and win. Which is to say that luck plays a part in 9-Ball. But for some players... luck itself is an art. |
| | |
| --- | --- |
| Eddie Felson: | You gotta have two things to win. You gotta have brains and you gotta have balls. Now, you got too much of one and not enough of the other. |