The Color Purple
(1985)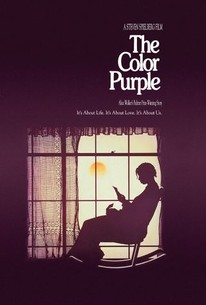 AUDIENCE SCORE
Critic Consensus: It might have been better served by a filmmaker with a deeper connection to the source material, but The Color Purple remains a worthy, well-acted adaptation of Alice Walker's classic novel.
Movie Info
Based on the Pulitzer Prize-winning novel by Alice Walker, The Color Purple spans the years 1909 to 1949, relating the life of Celie (Whoopi Goldberg), a Southern black woman virtually sold into a life of servitude to her brutal husband, sharecropper Albert (Danny Glover). Celie pours out her innermost thoughts in letter form to her sister Nettie (Akousa Busia), but Albert has been hiding the letters Nettie writes back, allowing Celie to assume that Nettie is dead. Finally, Celie finds a champion in the don't-take-no-guff Sofia (Oprah Winfrey), the wife of Glover's son from a previous marriage. Alas, Sofia is "humbled" when she is beaten into submission by angry whites. Later, Celie is able to forge a strong friendship with Albert's mistress Shug (Margaret Avery). Emboldened by this, Celie begins rifling through her husband's belongings and finds Nettie's letters. Able at last to stand up to her husband, Celie leaves him to search for a new life on her own. A major box-office hit, The Color Purple was nominated for eleven Oscars. The film was co-produced by Quincy Jones, who also wrote the score. ~ Hal Erickson, Rovi
News & Interviews for The Color Purple
Critic Reviews for The Color Purple
Audience Reviews for The Color Purple
½
Well acted and filmed (of course, it's Spielberg after all) but ultimately too long and with some unfitting humor. A condensed version would have worked much better. There are several touching scenes but overall it sadly left me a bit unimpressed. Certainly one of Spielberg's weaker films.
Alice Walker's novel comes to the screen under the direction of Steven Spielburg the director that brought you some of the biggest blockbuster hits of the era including "Jaws", "Close Encounters of the Third Kind","Raiders of the Lost Ark",and more. This was indeed one of the top ten films of 1985 and to understand on its golden 30th anniversary why this movie moved audiences so deeply and why the greatness of this masterpiece was not by perfection or logic but by heart. Despite what critics and some audiences who may have inconsistencies or confusions or improbabilities,but there is one perfect thing at it's center,and that is the character of Celie,played with riveting and emotional fire by Whoopi Goldberg in her first ever theatrical role that consisted of its predominately African-American cast that also included Margaret Avery, Rae Dawn Chong, Laurence Fishburne,and Adolph Caesar. Because of her electrifying performance,"The Color Purple" became a phenomenon upon it's release and a runaway boxoffice hit becoming one of the top ten highest grossing films of 1985. The movie was nominated for an impressive 13 Oscar Nominations including Best Picture,Best Director(Steven Spielburg),Best Actor(Danny Glover),Best Actress(Whoopi Goldberg),Best Supporting Actress Nominations for Oprah Winfrey and Margaret Avery,along with Best Supporting Actor(Adolph Caesar),and Best Original Musical Score for a Motion Picture(Quincy Jones)which was the first time in any Spielburg produced film that composer John Williams did not compose a film score for a Spielburg movie. Out of the amazing 13 Oscar nominations that it received it did not win a single Oscar(it lost the Best Picture Oscar to Sydney Pollack's Out Of Africa) but it was among number eight of the top ten highest grossing films of 1985(behind that year's top grossing movie which was "Back To The Future" that was produced by Steven Spielburg). It also marked at the time of it's release the only movie that featured a diverse cast of talent including some that were newcomers like Oprah Winfrey and Whoopi Goldberg who turned out astounding performances. "The Color Purple" focuses on the character of Celie,a woman cruelly treated by the world,a shy,frightened little creature whose life is consists mostly of eluding the men who want to rape and beat her. Her eventual flowering provides one of the most joyous experiences that expands through the years 1909 to 1949 where she is treated like a non-human by a brutal farmer she calls Mister(Danny Glover) who beats her,uses her as a servant and a low-life and convinces her that she is ugly. But here is where the film blossoms and Celie finally gets revenge on Mister too(the scene where Celie is shaving Mister with a straight sharp razor where she is about inches from cutting his throat),along with other characters that blend into this movie. The movie itself takes place in a scene that resembles more of "Green Pastures" or "The Grapes of Wrath"(filming of this movie was done in North Carolina within Anson County and Union County within the towns of Wadesboro, Lilesville, Sneadsboro, Marshville,and Morven to give it a more rural setting). "The Color Purple" was Whoopi Goldberg's first major performance and it earned her the Oscar nomination for Best Actress,and it remains her best because she was allowed to draw from her inner truth and not required to play a sappy or comic role. She has had other true moments including a scene of personal revelation in "Fatal Beauty",and another Oscar nominated performance in "Ghost" along with some astounding work portraying civil right icon Rosa Parks in 1990's "The Long Walk Home",and playing the wife of Medgar Evers in 1996's "The Ghosts of Mississippi". These movies and a few others show that Whoopi was a serious actress when she did "The Color Purple", and "Ghost",and we really lost her when she started playing second hand characters such as nuns("Sister Act" sequels),and playing off the radar "Star Trek" characters not to mention we totally lost her when she went from acting into the daytime talk show circuit of garbage. "The Color Purple" upon it's release was released exclusively in larger citles on December 20, 1985 with New York and Charlotte,North Carolina getting the film's world premiere. It went into general release everywhere in February of 1986.
Mister Caple
Super Reviewer
½
Disturbing and uncomfortable, yet also unmistakably beautiful. There are many contradicting qualities here that are in steady conflict with each other. On one side of the coin you have truly ravishing camera work, with settings so rich in light and color, that it looks like something out of a dream. On the other, however, there are occurences of such despicable nature, that your stomach will be left in a turmoil. Not only because of how horrific they are, but also due to the infantile fashion in which they are presented. Unspeakable crimes like incest and rape, are carelessly interweaved with lighthearted music and congrous humor. An unsavory mix that leaves a bad taste in the mouth. And why is the majority of all male characters such rotten and sadistic monsters? It only serves to place the film in disharmony, while shattering any credibility it could have had. What saves it from disaster though, is all the star-making performances coming from the ladies in the cast. Whoopi Goldberg and Oprah Winfrey (here almost inrecognizable), are so terrific in their roles, that it re-directs all thoughts to what's positive about the film. Like mentioned, it's very beautiful, and Spielberg's directing is outstanding as ever. Especially towards the end where it's hard to keep the tears away. A fine drama, all things considered. Albeit sadly somewhat diminished by a less-than-plausible story.
The Color Purple Quotes
| | |
| --- | --- |
| Sofia: | Sat in that jail, I sat in that jail till near about done rot to death. I know what it's like who wanna go somewhere and can't. I know what it's like who wanna sing... and have 'em beat outta ya. I wanna thank you, Miss Celie, for everything you've done for me. I remember that day in the store with Miss Millie - I'm feelin' real down, I'm feelin' mighty bad. And when I see you - I know that there is a God. I know that there is a God |
| Sofia: | Sat in that jail, I sat in that jail till near about done rot to death. I know what it's like who wanna go somewhere and can't. I know what it's like who wanna sing... and have 'em beat outta ya. I wanna thank you, Miss Celie, for everything you've done for me. I remember that day in the store with Miss Millie - I'm feelin' real down, I'm feelin' mighty bad. And when I see you - I know that there is a God. I know that there is a God. |
| | |
| --- | --- |
| Sofia: | All my life I had to fight. I had to fight my daddy. I had to fight my uncles. I had to fight my brothers. A girl child ain't safe in a family of men, but I ain't never thought I'd have to fight in my own house! I love Harpo, God knows I do. But I'll kill him dead before I let him beat me. |
| | |
| --- | --- |
| Sofia: | Sophia's home... Things are gonna change 'round here... |
| Sofia: | Sophia's home.Things are gonna change 'round here. |
| | |
| --- | --- |
| Celie: | The jail you plan for me who's the one you're gonna rot in. |