Colorado Sundown
(1952)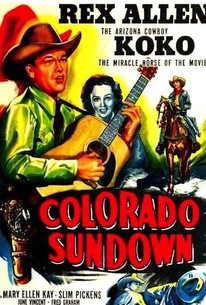 AUDIENCE SCORE
Critic Consensus: No consensus yet.
Movie Info
Rex Allen shared above-the-title billing in Colorado Sundown with his faithful steed Koko, "The Miracle Horse of the Movies." In this Republic oater, Allen plays a Texas Ranger who accompanies his friend Slim Pickens to Colorado, where the latter stands to claim a large inheritance. The film then segues into "old dark house" territory, with a sinister brother-and-sister couple (Fred Graham and June Vincent) plotting and planning to do away with the heirs. Black actress Louise Beavers, not normally associated with westerns, fits comfortably into the proceedings as a resourceful housemaid. At 67 minutes, Colorado Sundown was one of the longest of Rex Allen's vehicles.
Critic Reviews for Colorado Sundown
There are no critic reviews yet for Colorado Sundown. Keep checking Rotten Tomatoes for updates!
Audience Reviews for Colorado Sundown
Another movie from the Mill Creek Westerns Legends 50 Movie Pack. Even though this movie was filmed in 1952 it had all the appearances of haveing been filmed in 1930. The last and certainly one of the better singing cowboys, Rex Allen, stars here in this fast-moving Republic "B" western, accompanying his pal Slim Pickens,( now I know how he got the name slim beacuse film I first saw him in was 1941 with John Balichi and he wasnt to slim). in their initial matchup, to be on hand at Slim's home in Colorado where he expects to benefit from the bequest of the estate of a deceased relative, Zeke Reynolds, consisting of substantial timber holdings. To Slim's surprise, there are other claimants who think they will be heirs to the estate: Jacqueline Reynolds (Mary Ellen Kay), a distant cousin, and a brother/sister duo, Dan and Carrie Hurley (Fred Graham/June Vincent), owners of the Hurley Lumber Mill, whose business practices include overharvesting of trees, bringing about flash flooding while destroying cattle grazing land in Pine Valley. The Hurleys are guilty of crimes more serious than unsavoury commercial methods, and Rex and his employees, including Slim and the vocalising "Republic Rhythm Riders", find themselves in a range war between timbermen and ranchers who are avidly seeking to catch the Hurleys in the midst of committing their misdeeds. Typical of Republic productions in this genre, COLORADO SUNDOWN provides a great deal of furious fight footage, a runaway stagecoach corralled by trick riding and several musical numbers which appear at incongruous moments, including the traditional folk song "Down by the Riverside" (during a flood!) with performances from Allen, Kay, Pickens and the "Rhythm Boys". Director William Witney downcranks his camera during fight scenes, as is his wont, for by marginally slowing filming speed, action appears to be extraordinarily violent, and with the physically capable Allen and veteran stunt coordinator Graham on hand, these passages leave an indelible impression during the course of this interesting low-budget work. 3 Stars 11-20-12
Bruce Bruce
Super Reviewer
Colorado Sundown Quotes
There are no approved quotes yet for this movie.