Color Me Kubrick
(2007)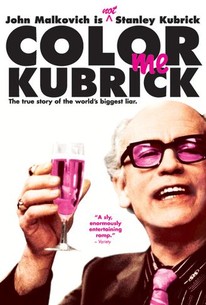 TOMATOMETER
AUDIENCE SCORE
Critic Consensus: Colour Me Kubrick has a fascinating premise, but provides little insight into Kubrick and the man who impersonated him.
Movie Info
In the mid-'90s, an Englishman by the name of Alan Conway (John Malkovich) conned many people into believing that he was the reclusive American director Stanley Kubrick, despite the fact that Conway was openly gay, bore no physical resemblance to Kubrick, and knew little about the director's work. Conway's story has been loosely adapted into the comedic feature Colour Me Kubrick. Anthony Frewin, who worked as Kubrick's personal assistance for many years, wrote the script, and Brian Cook, who served as Kubrick's assistant director on several films, including Barry Lyndon and Eyes Wide Shut, marks his directorial debut with the film. Colour Me Kubrick follows Conway on a number of adventures, wherein he cadges drinks, cash, sex, and more from unsuspecting victims, ranging from a heavy metal band to a wine bar owner (Richard E. Grant) to a British lounge singer (British television comic Jim Davidson making his feature-film debut), who are awestruck by his purported fame and fortune, and willing to overlook Conway's genuinely bizarre behavior in the hopes of impressing the great director. Conway's act reached its pinnacle when he temporarily pulled the wool over the eyes of then-New York Times theater critic Frank Rich (William Hootkins). Colour Me Kubrick features cameos by Ken Russell, Honor Blackman, Peter Sallis, and Marc Warren. The French production had its international premiere at the 2006 Tribeca Film Festival. ~ Josh Ralske, Rovi
News & Interviews for Color Me Kubrick
Critic Reviews for Color Me Kubrick
Audience Reviews for Color Me Kubrick
A True...ish Story. It's pretty terrible. Kubric been one of the most crazy weird directors of all-time could possibly be insulted rocking on his grave because of this crap of a so called movie. If your fan of John Malkovich see it but just as fan because the plot is just ridiculous. In London in the 1990s, a balding alcoholic with an unsteady American accent introduces himself in pubs and other social settings as Stanley Kubrick. Drinks and meals are suddenly on the house or paid for by an admiring person, usually a man, whose costumes, band, acting abilities or what have you, Stanley finds fascinating. He's actually Alan Conway (1934-1998): we watch him parlay a self-confident manner and a small amount of movie knowledge into a persona whom others immediately hang their dreams on. In exchange, Stanley asks only that they pay the bill. Will he be exposed? Do prosecution and prison await? Or has the National Health something else in mind?
I expected to love this movie. One of my favorite actors, John Malkovich playing a Stanley Kubrick imposter. How can it go wrong? Well, it did. Boring unfunny garbage. Basically the same thing would happen over and over. He would meet a new person, say he was Kubrick and then they would find out he was a conman after being duped for a few days. The only good thing about this movie was the showcase of all Kubricks classic music scores.
Melvin White
Super Reviewer
Con-man stories always hold some interest for me, even if they fail to truly go into detail about the protagonist or their victims. Color Me Kubrick is more of an interesting idea than a complete story. Alan Conway pretended to be Stanley Kubrick, despite knowing little about his work, or looking anything like him. He deceived people in order to receive free meals/gifts and the popularity. The film shows a number of these cons, which aren't plotted out, he just says he is Stanley Kubrick and people believe him. The film does a good job at showing the naivety of those tricked. Only one man even attempts to catch Conway out. The film may hold some fascination for UK viewers, just to see Jim Davidson in a rather well played role. It does manage to be funny, but often puts the emotional focus where it shouldn't be.
Luke Baldock
Super Reviewer
Color Me Kubrick Quotes
There are no approved quotes yet for this movie.