Columbo: Columbo Likes the Nightlife
(2003)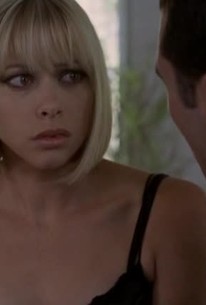 AUDIENCE SCORE
Critic Consensus: No consensus yet.
Columbo: Columbo Likes the Nightlife Photos
Movie Info
Thirty-five years after his first television appearance in the feature-length Prescription: Murder, rumpled, raincoat-clad Lt. Columbo (who else but Peter Falk?) is still on the job in this made-for-TV movie. This time, Columbo moves about uncertainly in the Los Angeles rave scene, investigating the highly suspicious suicide of a tabloid reporter. The principal suspect is promoter Justin Price (Matthew Rhys), who had been confronted with incriminating photographs by the dead journalist. Additional intrigue is heaped upon the narrative when a mobster's son, who happens to be the ex-husband of Price's girlfriend Vanessa (Jennifer Sky), mysteriously vanishes. While the story is both entertaining and intriguing, the viewers could confidently depend upon two things: That Price is guilty as hell and that the disheveled Columbo will, at one point or other, pause before leaving the room with a "Just one more question...." Columbo Likes the Nightlife premiered January 30, 2003, on ABC.
Critic Reviews for Columbo: Columbo Likes the Nightlife
There are no critic reviews yet for Columbo: Columbo Likes the Nightlife. Keep checking Rotten Tomatoes for updates!
Audience Reviews for Columbo: Columbo Likes the Nightlife
The Columbo murder mystery series comes to an end with the mediocre thriller Columbo Likes the Nightlife. When a freelance journalist is found murdered, the case leads Lt. Columbo back to a nightclub owner who's involved with an actress that the journalist was doing a story on. The acting is rather poor, and even Peter Falk seems to be phoning in his performance. The storytelling is also particularly weak, as the clues are extraordinarily obvious and the characters are underdeveloped. Additionally, the soundtrack is amateurish and uses generic club music that's extremely cheesy. Columbo Likes the Nightlife is an underwhelming crime thriller that tries to coast by on the old Columbo charm, but it's not all that compelling.
Dann Michalski
Super Reviewer
Columbo: Columbo Likes the Nightlife Quotes
There are no approved quotes yet for this movie.