Columbo: Murder by the Book
(1971)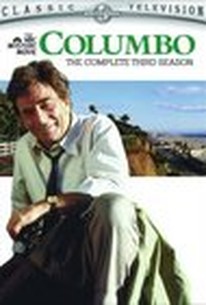 AUDIENCE SCORE
Critic Consensus: No consensus yet.
Movie Info
Ken Franklin is a rich socialite living in a luxurious coastal mansion bought from his years of writing crime and mystery books. However, what he once wrote as fiction becomes reality as he murders a man and then desperatly tries to cover up his crime when he is blackmailed by a witness. As usual, Columbo arrives on the scene and begins to pester his suspect with questions about the murder. Mr. Franklin soon realises though, that no murder is perfect, and that one of his books may return to haunt him.
Critic Reviews for Columbo: Murder by the Book
There are no critic reviews yet for Columbo: Murder by the Book. Keep checking Rotten Tomatoes for updates!
Audience Reviews for Columbo: Murder by the Book
½
Murder by the Book is a somewhat clever crime thriller from legendary director Steven Spielberg. The story follows a famous mystery novelist named Ken Franklin who kills his writing partner Jim Ferris when he threatens to go out on his own, but upon learn that Jim did all of the writing LAPD detective Lt. Columbo starts to suspect Franklin of the murder. Jack Cassidy brings a lot of charisma to his role as Franklin, but he doesn't quite pull off the duality of the character. Still, the plot is thought-out fairly well and has some interesting twists. While it's a bit rushed at times and doesn't do much character development, Murder by the Book is a solid murder mystery.
Dann Michalski
Super Reviewer
½
I wouldn't usually comment about a Columbo movie as it was made for TV and there are loads of them but this one is a bit special as it's directed by a Mr Spielberg. I'm a Columbo fan anyway but this is the original pilot and already you can see most of the things that make Columbo great in place. Flak is excellent and Cassidy makes a great villain. Not many Spielberg flourishes but still a great start for an enduring detective.
David Sayers
Super Reviewer
One half of a mystery writing team murders his partner after being told that he plans to go solo. The very first episode proper of Columbo started as it meant to go on; an intriguing plot, interesting characters and the classic Columbo ploy of playing the bedazzled, dimwitted flatfoot, all the while taking in every detail as he plans to unravel a seemingly water tight murder plot. Falk is perfect in the role of Columbo, playing the affable innocent although his steel trap of a mind has solved the case within minutes and it's great to watch Jack Cassidy's arrogant slimeball get more and more tetchy with him as he sees himself gradually becoming undone, thread by thread. There is also some nice support from a very believable Rosemary Forsyth as the grieving widow and Barbara Colby as the star struck small towner who foolishly tries to blackmail the killer. Hardly over stocked with big names, but it's a well written, well acted, intelligent detective story and it certainly didn't hurt to have a little known young director by the name of Steven Spielberg at the helm...
Columbo: Murder by the Book Quotes
There are no approved quotes yet for this movie.