Columbo: Prescription Murder
(1967)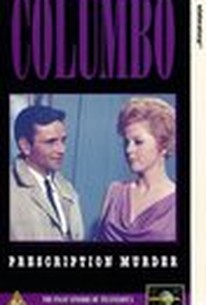 AUDIENCE SCORE
Critic Consensus: No consensus yet.
Movie Info
Psychiatrist Ray Fleming is having a passionate affair with actress Joan Hudson, and uses her to help him murder his wife Carol, and to make it appear the work of a vandal. Fleming and Hudson pull off the murder and deception, but when Fleming returns from a vacation (which served as the prerequisite for the deception), he encounters a rumpled LAPD Lieutenant, Columbo, whose seeming bouts of attention-deficit disorder and meandering questioning mask a devilishly skilled investigator who soon recognizes the murder of Carol Fleming to be the work of her husband, but who must work diligently to find the proof needed. This is the first Columbo movie.
Critic Reviews for Columbo: Prescription Murder
Audience Reviews for Columbo: Prescription Murder
The crime thriller Prescription: Murder marks the debut of Peter Falk as Lt. Columbo. Adapted from a stage play a philandering psychiatrist attempts to get out of his marriage by committing the perfect murder, but to get away with it he'll have to get by a sly, soft-spoken homicide lieutenant named Columbo who suspects that he killed his wife. This is a very different portrayal of Columbo than what the character would become; he's much more menacing, cautious, and direct. The film is also overly focused on the details of committing the murder; which hurts the pacing and momentum. Prescription: Murder is an interesting entry in the Columbo series, it has the raw material but doesn't quite have the formula right.
Dann Michalski
Super Reviewer
The pilot for a candidate for the best TV detective series ever made, this sees the scruffy sleuth in a battle of wits with a coldly arrogant psychiatrist who plots with his mistress to kill his wife. Columbo is one of those characters you cannot imagine being played by anyone else. Peter Falk IS Columbo (although would you believe the original casting choice was Bing Crosby...?!) The unique thing about Columbo was the fact that it was never a whodunnit. In fact the who, how and why are always shown at the outset; the joy is in seeing how Columbo sets about proving his suspicions. This is not the best of the series, but it solidly establishes the familiar formula; in fact two of the best examples were made by little known young directors called Steven Spielberg and Johnathon Demme... But there's just one more thing that's been bothering me...
Columbo: Prescription Murder Quotes
There are no approved quotes yet for this movie.