The Comancheros
(1961)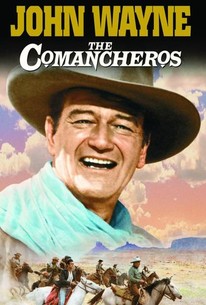 Movie Info
Based on a novel by Paul I. Wellman, The Comancheros stars John Wayne and Stuart Whitman as a Texas Ranger and roguish gambler, respectively. Reluctantly joining forces, Wayne and Whitman try to round up the "comancheros" -- renegade whites who've aligned with the Indians in smuggling guns and whisky. Ina Balin plays the daughter of comanchero chieftain Nehemiah Persoff, who rescues Stu and the Duke when they're captured by the renegades. After the anticipated climactic battle, Wayne allows Whitman and Balin -- fugitives from justice both--to ride into the sunset together. The last film directed by the estimable Michael Curtiz, The Comancheros is fine testosterone-laden entertainment. Keep an eye out for veteran western stars Bob Steele and Guinn "Big Boy" Williams in uncredited supporting roles. More than a few elements from The Comancheros would find their way into Sam Peckinpah's The Wild Bunch, albeit without the happy ending.
Critic Reviews for The Comancheros
Audience Reviews for The Comancheros
½
Michael Curtiz' last film is a solid and layered piece of actioner as a Texas Ranger tries to take out some knuckleheads suppling rifles to the Comanches. Yeah sure, it's a John Wayne film (and don't you forget it, pilgrim!) but there's room for everyone here. The word rollicking comes to mind.
Kevin M. Williams
Super Reviewer
½
A great cast in a very enjoyable Wayne western. One that has more below the surface than your typical western of the time. I especially enjoyed Lee Marvin, though his stint was too short. Interesting and fresh storyline as well.
Jeffrey Meyers
Super Reviewer
This action-western picture of John Wayne is absolutely which has not one dull moment. It has lots of nice moments between the Texas Ranger (played by Wayne) and gambler (Stuart Whitman) as the unlikely partners to take on the villians of Comancheros.
Dean McKenna
Super Reviewer
The Comancheros Quotes
There are no approved quotes yet for this movie.