Come Early Morning
(2006)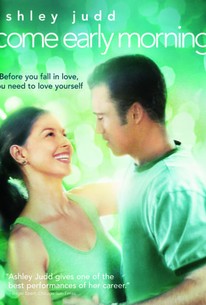 Come Early Morning Photos
Movie Info
A Southern beauty whose habit of waking up in strange beds with head-ringing hangovers is beginning to wear thin determines to uncover her secret shrouded family past in hopes of discovering the truth about the woman she has become in the feature filmmaking debut of actor-turned-director Joey Lauren Adams. Lucy (Ashley Judd) is a small town thirtysomething who seems to have fallen into a downward spiral of alcohol-fueled benders and spontaneous one-night stands. In order to begin the transformation necessary to help her overcome her self-destructive ways, however, Lucy will have to look deep into her familial past and seek out the true weight of the burden that has led her down the darkened path she currently walks. Diane Ladd, Tim Blake Nelson, and Laura Prepon co-star in an intimate personal drama that made its premiere at the 2006 Sundance Film Festival.
News & Interviews for Come Early Morning
Critic Reviews for Come Early Morning
Audience Reviews for Come Early Morning
I watched this while distracted, so I do intend to rewatch it, and my rating may change. Will review properly then. Movie seemed good, but not quite what I expected.
Nicki Marie
Super Reviewer
Allegedly this is the ultimate art film of the country hillbilly woman. What it reminds us is that some lives are too boring to put on the screen even in the name of art.
John Ballantine
Super Reviewer
"Come Early Morning" starts with Lucy(Ashley Judd), a building contractor, taking the walk of shame but not so much that she insists on paying for the motel room. In talking to Doll(Candyce Hinkle), she finds out her dad(Scott Wilson) is back in town. Seeing a chance at reconciliation, she accompanies him to the new church he is attending. When that old time religion does not stick, Lucy is back to the old grind at the local honky tonk where she gets into a fight with a fellow patron that Cal(Jeffrey Donovan), who is new in town, helps to break up and then takes a liking to her. Without much of a story to speak of, "Come Early Morning" has to rely on the charms of its rough hewn subjects to engage the audience with the study of a character who is haunted by the past mistakes of her family, leading her to act impulsively, sometimes without the help of alcohol. Wrapping that all up, the movie is perfunctory in its conclusions but thankfully not its resolution. In this case, I would have to say that the country music and the religion add regional flavor instead of acting as stereotypes. Regardless, the movie is helped by a good cast that also includes Diane Ladd, Stacy Keach and Ray McKinnon, of which Ashley Judd fares best in a thoroughly lived in performance.
Come Early Morning Quotes
There are no approved quotes yet for this movie.