Come Undone (Cosa voglio di più)
(2010)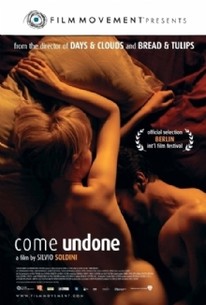 Come Undone (Cosa voglio di più) Photos
Movie Info
Anna (Alba Rohrwacher) has everything she thought she could ever need: a respectable career, a caring family, and a loving partner, Alessio. But when she meets Domenico (Pier Francesco Favino), a handsome, married waiter, her neatly ordered world begins to fall apart. They quickly fall into a heated affair, based on secret meetings, stolen caresses, cell phone fights, and endless lies. Anna's increasingly distant behavior goes unnoticed by Alessio, while Domenico's wife becomes steadily more suspicious of her husband. As the two lovers begin to fall deeper under the spell of passion, they are faced with a life-changing choice which neither is entirely prepared to make. COME UNDONE is Silvio Soldini's third film to be distributed in the US by Film Movement, which originally released AGATA AND THE STORM in 2006 and DAYS AND CLOUDS in 2009. Long committed to telling an array of intimate stories of private and passionate relationships, in COME UNDONE Solidni explores themes of lust, forbidden desire and infidelity, and their myriad ramifications. In depicting his protagonists' clandestine affair, it was very important to Soldini that, in his words, he "shows very real characters, with problems that we all have, as if they were people that we know, in situations that we all experience." Unlike his previous purely fictional films, COME UNDONE is based on stories that a close friend of the director related to him about her own romantic affairs. -- (C) Film Movement
Critic Reviews for Come Undone (Cosa voglio di più)
Audience Reviews for Come Undone (Cosa voglio di più)
The story of a two lovers who forms a relationship based on cheating from both of their partners. The acting seemed natural but I kept yelling slut as I watched the film, it is unacceptable to try to justify cheating behavior, it's just wrong.
Sylvester Kuo
Super Reviewer
½
"Cone Undone" starts with a phone call in the middle of the night. Relax, it's good news for a change as Isa(Martina De Santis) has just gone into labor. That leaves her sister Anna(Alba Rohrwacher) and brother-in-law Alessio(Giuseppe Battiston) scrambling to find transportation to get her to the hospital with her husband away from home on work. Luckily, they are friends with Bruno(Fabio Troiano), a neighborly cab driver who has done this sort of thing before. All of which gets Anna and Alessio thinking about having a child of their own and she promises to go off the pill. Before then, fate intervenes in the person of Domenico(Pierfrancesco Favino), a waiter at a company retirement party who Anna asks out for a cup of coffee despite their both being married. That's not what they are only interested in, as finding a convenient spot to get it on proves harder than it initially sounds. Finally, they settle on a hotel that charges by the hour. "Come Undone" is a knowing and well-acted look at the emotional pitfalls of an extramarital affair. The one thing I was initially struggling with was Anna's motivation. It definitely has nothing to do with Alessio's rotund body since they certainly have a loving marriage. Rather, I think it comes down to one last blowout before her body betrays her and full responsibility kicks in, especially since she got so freaked out by her sister giving birth. After the first successful encounter, the story shifts from Anna to Domenico and we get a feel for the pressure that he is under on a daily basis. In fact, the characters are all drowning in responsbility with the price of everything counted since they have to keep track in order not to go under. However, time can be even more precious than money.
Come Undone (Cosa voglio di più) Quotes
There are no approved quotes yet for this movie.