The Comebacks
(2007)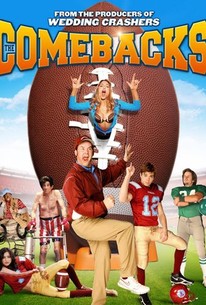 Movie Info
A struggling coach named Champ Fields who just can't seem to lead a team to victory gets one last shot at redemption when he attempts to whip a ragtag team of college athletes into shape in this sports comedy directed by Tom Brady (The Animal) and starring David Koechner (Anchorman: The Legend of Ron Burgundy) as the losing coach in question.
News & Interviews for The Comebacks
Critic Reviews for The Comebacks
Audience Reviews for The Comebacks
The spoof genre, which has lacked creativity and humor for some time already, gets spat upon yet again by hacks with no talent. No point, no fun, no originality; just a few cheap bucks for the film makers. It takes more than just referencing some recent movies and giving characters double-meaning names to be satire; to make people laugh. Any clod can pick up a cam-corder, and have some bad-acting buddies in cheap costumes imitate somebody. Since the genre being targeted this time is inspirational sports movies, there are a few lame references thrown out to movies of that type: the jokes are so weak the characters actually have to emphasize the references in various ways, to get you to laugh hysterically. It doesn't work. That's not comedy. However, the same old worn out sophomoric "jokes" ripped off from a middle school washroom (done even more blandly than usual) are all here. If that's not enough, there's a running "gag" of a bus running somebody over. So funny, right? Also, one pathetically poor scene does more product placement than Michael Bay; again with the same unfunny results. A musical bit flops miserably. Pity Carl Weathers, once Apollo Creed in the Rocky series, now stuck with roles in swill like this. Lousy beyond words. Watching a snail run the marathon would be less tedious than watching this film is. Probably a lot funnier, too. 1 Star 9-25-13
Bruce Bruce
Super Reviewer
½
Decent and enjoyable spoof film; this is one of the better spoof films to come out recently. The film parodies several sports films, and does it well enough to keep you interested from start to finish. I enjoyed the film for what it was, and thought it was a decent comedy that had some good laughs. However after awhile, the film didn't know how to deliver its gags, and it got tiresome a bit. Nonetheless, this is far better than Date Movie, Epic Movie, Meet the Spartans, etc. The cast do what they can with a sometimes lacking script, but despite this, The Comebacks is over the top fun and if you can get by how silly this film is, then you might enjoy it. I liked the film, but I felt it could have been better. However I'll admit it's the best spoof films to come around in a long time and despite its imperfections, it does manage to make you laugh because of its silliness. If you're in the mood for some decent laughs, then this film is the one to watch. As far as parody films are concerned, this one succeeds well enough for you to enjoy a mindless evening of laughs. Like I said, this is better than most spoof films, but towards the end it does lack a bit. But in the end, if you're in the mood, you're sure to enjoy this dimwitted comedy. Although it lacks in some areas, it makes up for it with it's over the top humor. A decent comedy in the end, The Comebacks is worth watching if you're in the right mood. However never expect anything great with this one.
It is probably one of the funniest spoof movies out there, but when it comes down to it, it's still the same thing over and over again!
The Comebacks Quotes
There are no approved quotes yet for this movie.