Comedian
(2002)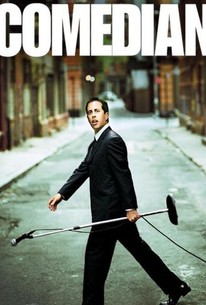 Movie Info
An inside view of the post-Seinfeld life of Jerry Seinfeld. Neither a concert film, nor a biographical documentary, film examines the birth of a comedy act and offers a window into the details of backstage life and the challenge of making people laugh. Seinfeld is revealed in ways no one has seen before: struggling with difficult material; confronting self-doubt; accepting the help of friends and colleagues, simply as another comedian trying to put together an act. On stage, Seinfeld talks about marriage, recalls his time as the country's most eligible bachelor and offers new perspectives on the observations of the every day. But it is off-stage - where he shares the struggle with other comics including Colin Quinn, Chris Rock, Gary Shandling and Jay Leno -that a more personal, alternately funny and surprising, portrait emerges.
Critic Reviews for Comedian
Audience Reviews for Comedian
½
An interesting look to the obsession, tension, hard work and sadness behind the comedy.
Lucas Martins
Super Reviewer
Comedian follows two comics and up-in comer (Orny Adams) and a veteran (Jerry Seinfield) Both entertaining and a slap in the face for anyone who thinks after a hit sitcom you can just go back on stage and kill using your presence. Just not the truth, If I can paraphrase Steve Martin stand-up comedy is the single most difficult thing in show business because every other aspect of show business you can hide behind something so the audience doesn't see you wether it's a camera or a script. With stand-up your audience is right in front of you. It's a real no holds barred business. Lot's of great cameos keep this film from being a pbs special. A new favorite documedy of mine.
rocko perkovich
Super Reviewer
½
An interesting look at the trials and tribulations of a comic trying to develop a new routine. Obviously Seinfeld gets a lot of slack as there was a whole bunch of bad material that was applauded. If only I had such luck.
John Ballantine
Super Reviewer
Comedian Quotes
There are no approved quotes yet for this movie.