Comedy of Power
(2006)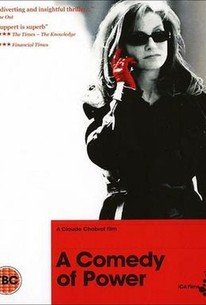 TOMATOMETER
AUDIENCE SCORE
Critic Consensus: Light on laughs -- and character detail -- Comedy of Power is nonetheless a timely thriller that unites Claude Chabrol and Isabelle Huppert to diverting effect.
Movie Info
Claude Chabrol's Comedy of Power stars Isabelle Huppert as a French judge who attempts to bring down the very powerful but corrupt CEO of a large corporation. As she digs deeper into the case, she uncovers criminal activity that stretches into the highest levels of government, and her life is turned upside down by death threats as well as her sudden celebrity. The film follows as her career affects her family. Loosely based on real events, Comedy of Power had its North American debut at the 2006 Tribeca Film Festival.
Critic Reviews for Comedy of Power
Audience Reviews for Comedy of Power
½
slow moving french film about the machinery of capitalism and one woman's determination to put a dent in the inherent corruption that lies within. Terrific acting by Huppert and Berland, but otherwise one soon realizes the futility of her struggle and the movie seems to slow down rather quickly, almost to a halt toward the end. Its an ok watch for the acting though.
½
[font=Century Gothic]In "The Comedy of Power", Jeanne Charmant-Kilman(Isabelle Huppert), a judge investigating corruption, orchestrates the arrest of Humeau(Francois Berleand), a high-ranking official, and hopes to sweat the names of his cohorts out of him. But they are not that concerned, thinking that attention will be focused solely on him. On the home front, her husband, Philippe(Robin Renucci), a doctor, is less than supportive of her, while his nephew, Felix(Thomas Chabrol), shows up, looking for a place to crash.[/font] [font=Century Gothic][/font] [font=Century Gothic]"The Comedy of Power" is directed by Claude Chabrol in his usual matter-of-fact style. Ostensibly a legal procedural, the movie pays less attention to the facts of the case than to the characters involved. Through Isabelle Huppert's relaxed performance, it becomes clear that her character is doing something that she enjoys and is glad that she can make a difference by attacking corruption and breaking down the old boy network. By contrast, her husband has almost the opposite feelings about his job.[/font]
Comedy of Power Quotes
There are no approved quotes yet for this movie.