Comforting Skin
(2011)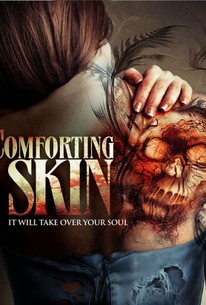 AUDIENCE SCORE
Critic Consensus: No consensus yet.
Movie Info
An anguished woman's tattoo takes on a mind of its own, spreading across her skin as it seduces her into a dangerous cycle of delusional self-destruction.
Critic Reviews for Comforting Skin
There are no critic reviews yet for Comforting Skin. Keep checking Rotten Tomatoes for updates!
Audience Reviews for Comforting Skin
Essentially, since this doesn't even have a description on here, this film is about a very insecure woman, Koffie, who gets a tattoo in order to boost her confidence. Things start to get strange once the tattoo starts to take over Koffie's body and mind. Seeing that Koffie longs to be loved and needed by someone she, very clearly, becomes obsessed with her tattoo. Descending deeper into the rabbit hole, Koffie cuts off ties with those closest to her in order to satisfy the tattoo's wants and needs. Clearly this movie is a drama about schizophrenia framed as a horror film and it's a good one at that. Koffie is a sympathetic character in that it's obvious that she's had some fucked up things happened to her, most of them alluded to but never explicitly stated. But she also comes on a little strong, she comes across as incredibly needy and desperate at times, which makes it understandable why her ex wants nothing to do with her anymore. She's got some severe mental issues at work here. The tattoo offers her something that she simply could not attain with other people and she, obviously, gravitates towards that, eventually becoming obsessed and shutting everyone else out to live in her own little fantasy world. So the story was at more than solid. I think the acting, the pacing, and the audio are a little inconsistent. Overall the acting is good, but there are just times when it feels a little off. The pacing is what it is, it feels longer than what it actually is. And the audio, particularly when characters are screaming or raising their voices, is absolutely horrendous, just terrible. It's obvious that this film was a low-budget production, but it made the most out of what it had, thanks to some solid cinematography. The only instances were you notice how cheap it is is during the parts where the audio is just way too loud and it sounds terrible. Like they used a $5 boom mic. Those are really my only complaints about the film, to be honest. This is definitely more of an acquired state, since it's not exactly a horror movie in the traditional sense. But if you want a psychological slow-burner then this will be right up your alley. It's obviously not the best of its kind that you will ever see, but it will get the job done.
Jesse Ortega
Super Reviewer
Comforting Skin Quotes
There are no approved quotes yet for this movie.