Coming to America
(1988)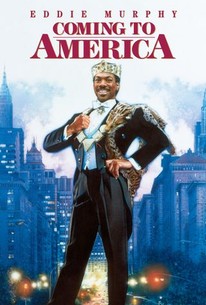 TOMATOMETER
AUDIENCE SCORE
Critic Consensus: Eddie Murphy was in full control at this point, starkly evident in Coming to America's John Landis' coasting direction.
Movie Info
Coming to America casts comedian Eddie Murphy as pampered African prince Akeem, who rebels against an arranged marriage and heads to America to find a new bride. Murphy's regal father (James Earl Jones) agrees to allow the prince 40 days to roam the U.S., sending the prince's faithful retainer Semmi (Arsenio Hall) along to make sure nothing untoward happens. To avoid fortune hunters, Prince Akeem conceals his true identity and gets a "Joe job" at a fast-food restaurant. Murphy and Hall play multiple roles, and there are innumerable celebrity cameos peppered throughout the proceedings -- including the Duke Brothers (Don Ameche and Ralph Bellamy) from Trading Places. Coming to America made further headlines when humorist Art Buchwald sued the film's producers for plagiarizing one of his works. Buchwald carried the case to trial, where he won a sizeable judgement against the film's producers. ~ Hal Erickson, Rovi
News & Interviews for Coming to America
Critic Reviews for Coming to America
Audience Reviews for Coming to America
½
John Landis directs this funny film about a pampered African prince named Akeem who, not happy about being in an arranged marriage, and getting tired of a pampered lifestyle, heads to America to try living like a regualr guy and find a wife on his own terms. It's basically just one big update of the Prince and the Pauper/fish out of water sort of thing, but, since this is the 80s, it features Eddie Murphy when he was still tremendously funny AND making good movies...I miss those days. Murphy is great as Akeem, though he seems a bit mroe subdued in the lead. Thankfully, he plays multiple characters, and this give him the chance to really let loose when he takes on those other roles. He's famolus for it now, but this is the first time he did this routine. Arsenio Hall gets in on the fun too, and the best side character each plays would have to be the Jewish man at the barber shop for Eddie (the makeup job is superb and very convincing), and the crazy lady at the bar for Hall. Too bad those guys didn't work together all the time, or weren't able to stay in their prime forever, because they have grrat chemistry together, and this is when they were at some of their best. We also get appearances from James Earl Jones (who gets to be atypical and silly), as well as a stand out, but all too brief cameo from Samuel L. Jackson (in his second ever film role) as a bum who tries to hold up a fast food joint. It's a brilliant and extremely memorable scene. The film is funny throughout, but it feels like the best stuff is few and far between. Also, the film feels a little long and draggy at times, as if the great director John Landis was just very unfocused and unsure of how to use all of the great talent at hand to its fullest. All in all though, this is some good stuff, though perhaps a bit overrated. It's funny, yeah, but underwhelming. It's still worth a look though.
Chris Weber
Super Reviewer
½
[img]http://images.rottentomatoes.com/images/user/icons/icon14.gif[/img] Back when Eddie Murphy wasn't bombarding us with stupid, low brow and unfunny kids films he made Coming to America and to this day it remains one of his most cherished, warmest and funniest films. Murphy is phenomenal playing witty, fast talking smart arses but slowing down his pace here it still works amazingly as a comedy. However, the plot moves forward a bit quicker than it should and becomes more dramatised in it's second half and it is an undeniably predictable storyline but unlike his more recent films it's decently written, well intended and quite funny. There is also a great supporting cast featuring James Earl Jones who was perfectly cast as Eddie's father and I thought his performance was absolutely hilarious.
Directors Cat
Super Reviewer
Remember the days when Eddie Murphy's movies were actually funny? It seems but a distant memory now, but every once in a while I make a little re-visit to the 80's, just to remind myself of a time when it wasn't all about fat suits and farting at the dinner table. Granted that he plays a multitude of roles in this one too, but at least the jokes are on the money and the make-up extremely convincing. A hilarious fish-out-of-water comedy, that even more than 20 years after its making, is still as side-splitting as ever. This, along with "Beverly Hills Cop", are my hands down favourite Eddie Murphy flicks, that always manages to get a laugh out of me. Not to mention the great supporting cast, which includes a prime-performing Arsenio Hall, the legendary James Earl Jones and a brief, but memorable cameo by Samuel L. Jackson. Maybe not a comedy to everyone's taste, but I for one really love it.
Coming to America Quotes
| | |
| --- | --- |
| Landlord: | Damn shame what they did to that dog... |
| | |
| --- | --- |
| Clarence: | Damn boy, what's this some kind of weave or something? |
| Prince Akeem: | It is my natural hair. I've been growing it since birth. |
| Clarence: | Aw shit that aint nothin but an ultra perm! |
| | |
| --- | --- |
| Randy Watson: | Sexual Chocolate. Sexual Chocolate! |
| | |
| --- | --- |
| Prince Akeem: | Good morning, my neighbors! |
| Subway Guy: | Hey, fuck you! |
| Prince Akeem: | [genuinely happy] Yes, yes! Fuck you too! |