Commandments
(1997)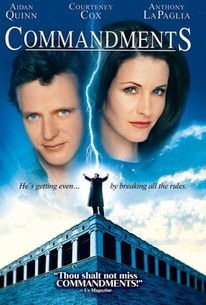 Movie Info
In this dark comedy, Seth Warner (Aidan Quinn) is a good man having a run of bad luck. His pregnant wife disappeared in the ocean during a trip to the beach, a tornado destroyed his house while leaving everything else in the neighborhood untouched, his boss fired him, and he was struck by a bolt of lightning that also injured his dog. While recovering in the hospital, Seth comes to the conclusion that God has cursed him. His brother-in-law Harry (Anthony LaPaglia) thinks that this conclusion is absurd -- after all, Harry reasons, he violates five or six commandments every day before lunch, and things are just great with him. This notion puts a bug in Seth's ear, and when he gets out of the hospital, he decides to confront God by deliberately violating all ten commandments; he hopes to start by seducing Harry's wife, Rachel (Courteney Cox).
Critic Reviews for Commandments
Audience Reviews for Commandments
I watched this film expecting not to like it, but watched it anyways because a friend recommended it. It turned out to be surprisingly charming.
FanGirl Browncoat
Super Reviewer
Commandments Quotes
There are no approved quotes yet for this movie.