The Competition
(1980)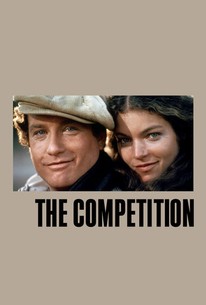 Movie Info
While competing against each other in a music contest, two pianists (Richard Dreyfuss, Amy Irving) fall in love and must battle to stay together in case either of them wins. The film was Oscar-nominated for Best Song and Best Film Editing.
Critic Reviews for The Competition
Audience Reviews for The Competition
Good drama with great music. Not an incisive examination of the cutthroat world of music competition although they do delve into it somewhat. More a drama of a selfish man letting down his defenses and a young girl who learns more than she bargains for when she lets down her guard. Excellent performances from the leads with Lee Remick adding her special brand of class but putting an icy edge to it as Amy's teacher. The only rough patch is when the two leads, who are remarkably free of rhythm for supposed musicans, dance to contemporary and quite awful music. They're gluefoots. For classical music lovers this will be a treat.
Excellent classical music and that's it.A relic of the 1980 production is a forgettable small,semi-independent feature,carved with a trifle of characteristics penetrated in its protagonists.Mere information though,the duo of Dreyfuss-Irving can't hold much.Why oh why those "intellectual" romances always end up in a sappy,sugary manner?
Dimitris Springer
Super Reviewer
The Competition Quotes
There are no approved quotes yet for this movie.