Compulsion
(1959)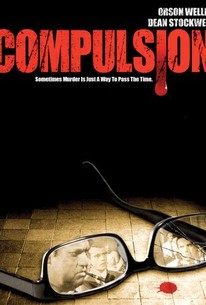 Movie Info
Compulsion is a compelling, stylish thriller, loosely based on the famous 1924 murder trial of thrill-killers Loeb and Leopold, two homosexual students who murdered a young boy to demonstrate their intellectual superiority. Artie Straus (Bradford Dillman) is a sadistic, mother-dominated bully. Judd Steiner (Dean Stockwell) is a submissive, introverted sissy. Having been raised by wealthy, arrogant families, both Artie and Judd consider themselves above conventional morality. Unfeeling and conceited, the boys, after the killing, take delight in offering to aid in finding the culprits. It is this arrogance which leads to their capture and prosecution for the murders. Jonathan Wilk (Orson Welles), playing a Clarence Darrow-like criminal defense attorney, takes on the case, and puts on a defense, without the cooperation of his clients, who will offer no explanation for what they have done. Bradford Dillman gives an outstanding performance, as does Dean Stockwell as the utterly unsympathetic murderers. Orson Welles is flamboyantly imposing as Wilk, who must use all his wits to try to save the boys from execution. Compulsion is a suspenseful courtroom drama, even though most viewers will know the outcome. Tautly directed by Richard Fleischer, the film is an outstanding, believable courtroom drama. ~ Linda Rasmussen, Rovi
Critic Reviews for Compulsion
Audience Reviews for Compulsion
Based on the Leopold-Loeb case, Compulsion makes for an interesting watch. Surely, the story of two lads, with one being extremely influenced and misled by Nietzsche's philosophy, wanting to commit a perfect crime that ends up with the murder of a child is appealing in itself. But its execution can make a world of difference. The director succeeds extensively to create a compelling thriller sticking to the facts as closely as possible. However, there's an element missing that could have made it better than what it is; IDK exactly, maybe the lack of details about the victim and his family. Of course, the movie's about the awesome twosome, but a wee-bit footage to the victim wouldn't have harmed much. I didn't find Welles' speech against capital punishment that interesting, but his response to Artie's reaction on the verdict is indeed remarkable. I went for it hesitantly, thanks to IMDb message board, but without a hesitation I'd admit that I've no remorse over my decision. As far as I'm concerned, it's a great deal for 75+ minutes. Well, to each, their own.
familiar stranger
Super Reviewer
½
Orson Welles was JUST fantastic, as expected, I guess. It reminded me a lot of In Cold Blood.
Jennifer D
Super Reviewer
Based on the 1924 case of Nathan Leopold Jr and Richard Loeb, two wealthy upper-crust college students who methodically planned the kidnapping and murder of a 14 yr old boy (Robert Franks). A solid, well acted docu-drama that, near the end, suffers from an over abundance of preachy thespianism. It's one thing to cast the legendary Orson Welles as a Clarence Darrow-ish defense attorney in an obviously anti death penalty message film, but it's awfully highhanded to let him rant incessantly about the barbarics of capital punishment. In effect, he's not a cast member with a script who is reciting monologue to a judge, he's an actor with an agenda speaking to us (the audience). A memorable but highly liberal classic.
Randy Tippy
Super Reviewer
Compulsion Quotes
| | |
| --- | --- |
| Sid Brooks: | I hope they hang him. I hope he hangs till the rope rots! |
| Sid Brooks: | I hope they hang him. I hope he hangs til the rope rots! |
| | |
| --- | --- |
| D.A. Horn: | The state psychiatrists have declared them completely sane. |
| Jonathan Wilk: | Yes, after a searching and exhausting study. Isn't that right Harold? 10 minutes in a crowded hotel room. Oh, we're up against some brilliant minds in this case, and we - we haven't a minute to lose. |