Con Air
(1997)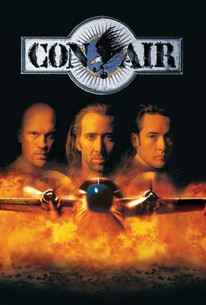 TOMATOMETER
AUDIENCE SCORE
Critic Consensus: Con Air won't win any awards for believability - and all involved seem cheerfully aware of it, making some of this blockbuster action outing's biggest flaws fairly easy to forgive.
Movie Info
Former war hero Cameron Poe (Nicolas Cage) is sentenced to eight years in prison when he accidentally kills a man in a barroom brawl while defending his pregnant wife. When his release comes through, he's eager to see the daughter he's never met. However, Poe's original flight is delayed, so he's put aboard a flight transporting ten of the most dangerous men in the American penal system to a new high-security facility. One of the criminals, Cyrus "The Virus" Grissom (John Malkovich), is a serial killer and insane genius who has hatched a diabolical plot: with the help of several other hoods, including Diamond Dog (Ving Rhames), Johnny 23 (Daniel Trejo), and Garland Greene (Steve Buscemi), Cyrus and his men will hijack the plane and fly to a neutral nation where they can live as free men. Poe finds himself stuck in the middle; he has to find a way to get home, keep himself alive, look after his cellmate Baby-O (Mykelti Williamson), who will die without proper medicine, and try to help the cops on the ground, including agent Vince Larkin (John Cusack). Producer Jerry Bruckheimer's first film after the death of his partner Don Simpson, Con Air shows he learned well how to assemble the formula all by himself, with plenty of action, stunts, and special effects and not a lot of story to get in the way. ~ Mark Deming, Rovi
Critic Reviews for Con Air
Audience Reviews for Con Air
Indulging in a sense of self-stupidity, 'Con Air' comes across as a parody of action films; it has cheesy one liners, clichés and throws in an over the top explosion whenever given the chance. Luckily though the film acknowledges it's own implausibility and the perfectly cast characters are all played with tongue firmly in cheek. Due to it's outrageous nature, however, 'Con Air' suffers in the fauxthentic moments it tries to pretend it's something it's not, and scenes that are meant to be serious come off as out of place and pointless. There's not really a lot to say, it's loud, dumb, and Nicholas Cage's long hair and terrible southern accent pass the realm of the bad and enter into a new world; a world so bad, it's good.
Cameron Sherwell
Super Reviewer
Con Air is what I've come to expect of a standard Hollywood action flick, nothing more, nothing less. It's got plenty of action, big explosions, one-liners and pure entertainment value. The plot is pretty good, somewhat original, and fairly fast-paced. The acting is good, and the film has a surprisingly large amount of well-known good actors; Nicolas Cage, John Cusack, Danny Trejo, Steve Buscemi, Ving Rhames and John Malkovich. They all give good performances, as do most of the supporting actors. The characters are well-written and credible. I found it interesting how most of the characters aren't all black or white in their actions and personalities; many of them have a shade of gray or two. The action is well-done, exciting and intense. The special effects(the few there are) are good enough. The ending may be a little extreme, but it's a good climax, and the good things in the film make up for the bad; granted, there are a few downright lame parts, but there are far more good parts than bad. All in all, everything you'd expect from a Jerry Bruckheimer action film, and nothing else. I recommend it to fans of standard action films. 4 Stars 6-1-13
Bruce Bruce
Super Reviewer
[img]http://images.rottentomatoes.com/images/user/icons/icon14.gif[/img] Con Air boasts everything that makes a solid slice of action-y Hollywood cheese, and another over the top performance from Nicolas Cage, excpet this time it's in a pretty decent movie. I think the loony Cage performance is under rated, I think the reason people dislike it is because it's been abused in various atrocities lately like Drive Angry and Ghost Rider. But in a movie as fast-paced and explosive as Con Air, that ridiculously wacky performance suits the general mood. John Malkovich also shows up to do his usual menacing shtick and does it pretty well. But there are many flaws with the film. A big problem is that it begins cheesily and continues to progress cheesily, but in a "so bad it's good" kind of way. But around about the final 30 minutes it digs its own grave by adding every single soppy cliche in the book to the formula. That said, this is incredibly formulaic. It's not original, and almost indistinguishable from other Jerry Bruckheimer productions. Either way Con Air has a cult following and for a very good reason. It's strong acting and emotional engagement makes it work. And to be honest over all the explosions and gunfights, I didn't want Nic Cage's character to die. It's almost suspense free, at time sloppily directed, but regardless thanks to it's strong cast, visual style and moments of hilarity, I kind of enjoyed myself. If it's produced by Jerry Bruckhemier you usually expect the worst. It doesn't turn out to be as amazing as you would wish but neither as bad as you might have feared. Director Simon West basically crafts a perfectly acceptable Hollywood blockbuster with an assortment of every recognisable movie cliche ever used, but his great achievement is in how above all else Con Air never really get's boring. If your going to watch a Nicolas Cage action movie, this is one of the decent ones.
Directors Cat
Super Reviewer
Con Air Quotes
| | |
| --- | --- |
| Cameron Poe: | You don't treat women like that. |
| | |
| --- | --- |
| Cyrus (The Virus) Grissom: | I am not plausible as a tough guy because I have an effeminate voice. |
| | |
| --- | --- |
| Vince Larkin: | When are you going with my plane, Cyrus? |
| Cyrus (The Virus) Grissom: | We're going to Disney Land. |
| Vince Larkin: | You're lying, Cyrus. |
| Cyrus (The Virus) Grissom: | So are you, Vince. |