Conan the Barbarian
(2011)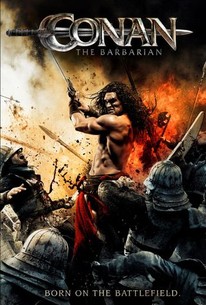 TOMATOMETER
AUDIENCE SCORE
Critic Consensus: While its relentless, gory violence is more faithful to the Robert E. Howard books, Conan the Barbarian forsakes three-dimensional characters, dialogue, and acting in favor of unnecessary 3D effects.
Conan the Barbarian Photos
Movie Info
A quest that begins as a personal vendetta for the fierce Cimmerian warrior soon turns into an epic battle against hulking rivals, horrific monsters, and impossible odds, as Conan (Jason Momoa) realizes he is the only hope of saving the great nations of Hyboria from an encroaching reign of supernatural evil. -- (C) Lionsgate
News & Interviews for Conan the Barbarian
Critic Reviews for Conan the Barbarian
Audience Reviews for Conan the Barbarian
Hey, its Conan. If you were looking for the Ten Commandments, look elsewhere. And you get what you pay for here.
Kevin M. Williams
Super Reviewer
What happened here?! I was really looking forward to seeing this as I do have love for these sword n sorcery fantasy adventure flicks of old and had high hopes for this remake/reboot. Yes I accept the obvious cheese factors and possible over the top silliness of the whole concept, if you love the old 'Conan/Red Sonja/Dragonslayer/Beastmaster' type films then you surely do, but I was amazed at the lack of imagination used for this new film. I really feel disappointed with this in every aspect, Momoa certainly looked the part but he wasn't quite big enough for me, not enough muscle tone, he played the part OK but there was too much needless sword twirling and fancy pointless showmanship. Lang and McGowan didn't really thrill me either, they both looked like characters outta Star Trek and were simply dull, much like all the characters, just your run of the mill faceless baddies with silly haircuts. Poor old Perlman looked like a flipping Wookie or Neanderthal in his get up, the abominable swordsman. I just felt a real lack of inspiration throughout the film, the location and sets were drab, nothing really exciting actually happened and the finale was a mess of bad bluescreen, poor models and poor CGI. Throw into the mix a very lackluster giant octopus monster thing (terrible CGI again) which didn't really do anything, totally mediocre and has been done before over and over *sigh*. Yes the film sticks to original source material by staying violent with plenty of blood and gore (although the blood was again bad CGI in places), but the film just felt like it lacked care, just tossing together all the old cliches and old ideas and throwing out yet another lame reboot/remake...whatever.
Phil Hubbs
Super Reviewer
Marcus Nispel seems to be the go to guy when it comes to remaking films. He already has the remake of The Texas Chainsaw Massacre and Friday the 13th under his belt, along with the Viking action film Pathfinder under his belt. With this remake of Conan the Barbarian, we get one of his better films, this isn't an awful remake, in fact it's quite good and entertaining, but it won't stand out either. The film is far better than what critics have said about, it and it's an exhilarating, brutal and pulse pounding action picture that is purely designed to thrill and nothing more. Don't look for a great story here, you won't find it, but what you can expect is bloody action that is really what stands out about the film. Jason Momoa who would later portray the menacing Khal Drogo in Game of Thrones portrays the lead character and he does a fairly good job in his role as well. Sure, it's not as memorable as the Schwarzenegger classic, but it's still a fun, action packed mindless popcorn film that is worth seeing if you enjoy these types of action films. Although the original Conan film is the better version, this remake is quite good for what it tries to accomplish. In terms of reboots, this one was better than expected and is worth seeing if you enjoy mindless action. However if you're a diehard fan of the original, I would recommend that you skip this one, as it's quite different, and they've changed quite a bit from the original movie. No matter what your feelings are, the Arnold Schwarzenegger classic will always be the best film, but for what is delivered here is a fun, entertaining film that's quite exciting considering the fact that it's a remake. In terms of remakes, this film isn't great by any means, but is far better than what critics have said about it.
Conan the Barbarian Quotes
| | |
| --- | --- |
| Conan: | I live. I love. I slay. And I am content. |
| | |
| --- | --- |
| Conan: | I WILL FOLLOW YOU ALL THE WAY TO HELL! |
| | |
| --- | --- |
| Conan: | How many names do I need? |
| | |
| --- | --- |
| Conan: | Where is the man who killed my father? |