Condorman
(1981)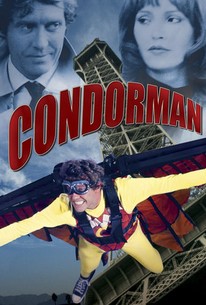 Movie Info
The creator of a comic-book series (Michael Crawford) is recruited by a friend in the CIA (James Hampton) to rescue a beautiful Soviet defector (Barbara Carrera). He agrees, as long as he is permitted to don the persona of his most famous character, Condorman.
Critic Reviews for Condorman
Audience Reviews for Condorman
This was one of my favorite movies growing up. It is a light hearted, funny movie that I have seen a hundred times and can pretty well quote the whole thing. The quality of the film is not the greatest but I think everything from the acting to directing is really quite good. In my opinion this film is underrated (get it on DVD already) and worth watching for an old comic style comedy. With all the unnecessary remakes going around these days (shudder), this is a film that could actually be a great candidate for a remake and/or sequel. It has the potential for another great story and with the right direction could be made into a great film (once again).
One of the many misguided live-action films that Disney made in the late 70's/early 80's was Condorman. It's the kind of film that sounds like it was made as a bet. The premise is insane and the execution is even more ridiculous. An american comic book writer is living in Paris "researching" his new comic Condorman. By research I mean he dresses up like his character and tries to fly off the Eiffel tower. This needless to say goes...poorly. You see this artist will only write about things he can actually do. Then the CIA asks him to deliver some documents to one of there agents in Istanbul. (the long, rich collaboration of comic book artists and spies is well documented) The contact in Istanbul then decided to defect, but only to Condorman. So the CIA literally builds EVERYTHING the comic book artist has even conceived of to aid him in his mission. This includes a fully functional flying Condorman suit and the Condormobile, a jet boat with an attached laser gun. All of which have red and orange and feathers painted on them...to you know look inconspicuous). Did I mention that the bad guy is played by Oliver "I'll do anything for drinking money" Reed? Condorman is totally terrible, but it's trying so hard to take it self seriously that I found myself laughing quite a bit. Is it the worst comic book movie ever made? Far from it. Is it the silliest super hero ever? Probably, but then again I haven't seen Pizza Man yet.
Ken Stachnik
Super Reviewer
I used to watch this repeatedly when I was young. To me it was my dream to be a superhero and Condorman managed to achieve this. Today we have films like 'Kick-Ass' where this is achieved in a different more brutal way! Watching it again now it's easy to find the whole thing very cheesy and poorly directed but I still think Oliver Reed is great as the villain and Carrera is sexy as hell! Crawford seems to be trying too hard but Hampton is great as his friend and let's not forget the greatest car (outside of James Bond) to appear on film! Not Disney's greatest film by any stretch of the imagination but this will always hold a special place in my heart.
David Sayers
Super Reviewer
Condorman Quotes
There are no approved quotes yet for this movie.