Confessions of a Nazi Spy
(1939)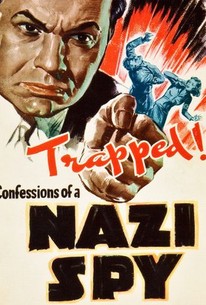 AUDIENCE SCORE
Critic Consensus: No consensus yet.
Confessions of a Nazi Spy Photos
Movie Info
Bold for its time (just prior to World War II), Confessions of a Nazi Spy is an expose of a genuine Nazi espionage ring operating in the United States. Dedicated National Socialist Paul Lukas arrives in America to conduct Bund rallies and enlist German-Americans in the service of Hitler. His rabble-rousing speeches inspire a blue collar worker (Francis Lederer) to join a Bund, and then participate in spy activities. FBI agent Edward G. Robinson is assigned to investigate. Extracting a confession from the not-too-bright Lederer, Robinson traces the espionage activities to Lukas. The Nazi official's notoriety and his undesirability as a security risk compels the German secret police to kidnap Lukas and spirit him back to the Fatherland, presumably to face liquidation. The spy ring is rounded up, but Robinson realizes that this is only the beginning. Confessions of a Nazi Spy may seem dated today, but in 1939 it packed a real wallop, especially since most filmmakers of that era chose to ignore the Nazis lest they lose the valuable European market.
Critic Reviews for Confessions of a Nazi Spy
Audience Reviews for Confessions of a Nazi Spy
½
Well made but blatant propaganda. The two biggest stars in the cast, Edward G. Robinson and George Sanders have relatively small roles.
Despite coming out two and a half years before America's involvement in WWII, Confessions of a Nazi Spy is a wonderful piece of propaganda. This movie is also a single-finger salute to Germany on the part of Warner Bros as the only studio who would speak out against the Nazis despite a lucrative film market overseas. The movie sets up a sprawling network of Nazi spies and the dread it would've potentially brought upon the U.S. Once Edward G. Robinson, Nazi Hunter is on the case about 45 minutes into the movie, he starts cleverly kicking ass and taking names. It starts playing out like Law and Order's grandfather at points but by the time the final scene and the credits roll you're ready to kick some Nazi ass.
Michael Gildea
Super Reviewer
Confessions of a Nazi Spy Quotes
There are no approved quotes yet for this movie.