Confusion of Genders
(2000)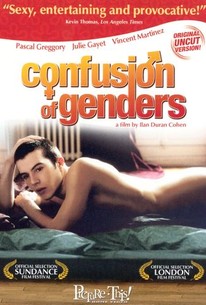 Confusion of Genders Photos
Movie Info
A lawyer finds himself playing on so many sides at once that he has trouble keeping score in this offbeat comedy. Alain (Pascal Greggory) is a bisexual attorney stuck in a deep well of sexual and professional confusion. Alain has become involved with Laurence (Nathalie Richard), another lawyer who shares his office; after they sleep together for the first time, Laurence finds herself pregnant, then wants Alain to marry her, even though she knows he doesn't love her. Meanwhile, Alain is obsessed with one of his clients, Marc (Vincent Martinez), who has just been handed a life sentence for murder but is still the man of his dreams, despite the fact that Christophe (Cyrille Thouvenin), Laurence's brother, is in love with Alain and willing to do anything to satisfy his sexual appetite. In order to get closer to Marc, Alain warily agrees to become an intermediary between Marc and his girlfriend Babette (Julie Gayet). But as he begins passing messages between the two, Alain finds himself falling into an affair with Babette.
Critic Reviews for Confusion of Genders
Audience Reviews for Confusion of Genders
½
[font=Century Gothic]In "Confusion of Genders," Alain(Pascal Greggory) is a middle aged lawyer who is depressed on both a personal and a professional level.[/font] [font=Century Gothic][/font] [font=Century Gothic]Despite having numerous trysts with members of both genders, he still feels lonely and worries about growing old alone. So, he proposes to his boss, Laurence(Nathalie Richard), who accepts. Then, she gets pregnant. Complicating matters even further is Christophe(Cyrille Thouvenin), brother to Marlene(Marie Saint-Dizier), one of Alain's old hookups, who one night brings Alain home with him.[/font] [font=Century Gothic]Alain wants to take on an important case but Laurence demurs until a murder case comes their way. The client, Marc(Vincent Martinez), gets a life sentence. Alain feels so guilty that he agrees to act as a go-between in a wedding proposal from Marc to his girlfriend, Babette(Julie Gayet), a hair stylist.[/font] [font=Century Gothic]"Confusion of Genders" is an offbeat satire with an erotic edge. As well-acted and engaging as it is, it could have been even better if its staccato rhythm had been slowed down in a couple of places. The movie is about the pursuit of happiness where the best advice is to roll with the punches, as events may play out in totally unexpected and wonderful ways. For example, Alain's bout of self-loathing comes from life differing from the expectations he originally had, especially not fitting in as well as he would like. Part of that comes from the law not turning out to be the idealistic profession he once thought it was. [/font]
Confusion of Genders Quotes
There are no approved quotes yet for this movie.