Connected (Bo chi tung wah)
(2008)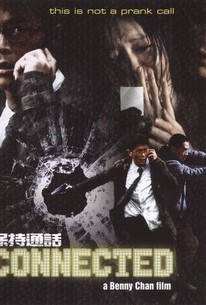 AUDIENCE SCORE
Critic Consensus: No consensus yet.
Connected (Bo chi tung wah) Photos
Movie Info
Invisible Target director Benny Chan draws inspiration from the 2004 English-language thriller Cellular for this tense tale of a self-centered debt-collector who risks his life to rescue a desperate mother and her young daughter. Bob (Louis Koo) is a single father with a dead-end job as a debt collector. Essentially an easygoing, helpful guy, Bob tries in earnest to perform well in his new position while dealing attempting to clean up his act so his sister won't move to China with his son. He's making progress too, so when he receives a frantic phone call from a woman named Grace who claims she's been kidnapped, he reports the disturbing call to the local police. Although the detective on duty dismisses the call as a prank, Bob's instincts tell him differently and he quickly makes the decision to investigate. Realizing that he's the only personal capable of saving Grace and her daughter from a painful demise, Bob prepares to risk everything - including his own family - in order to save two people he's never met, and may not even exist.
Critic Reviews for Connected (Bo chi tung wah)
There are no critic reviews yet for Connected (Bo chi tung wah). Keep checking Rotten Tomatoes for updates!
Audience Reviews for Connected (Bo chi tung wah)
For the uninitiated, Barbie Hsu plays Grace Wong, an engineering genius, worked into the plot such that it would be reasonable for someone of her calibre to craft a makeshift phone from spare parts. Compared to the more elderly version of the damsel-in-distress played by Kim Basinger, Barbie Hsu brings forth a more energetic interpretation. The remake counterparts held their own in contribution to the movie. While we don't have a Jason Statham as the no-nonsense baddie henchman, we do get a more charismatic Liu Ye as the chief villain, and in spite of hiding his face behind shades most of the time, he does send enough fear to the opposition, and makes quite a fine villain, although not particularly a memorable one. There are enough material here to have three concurrent narrative points of view running along, with that of the captive, the seeker, and the meddler, where Nick Cheung's off duty cop PC2004 had more to chew on, compared to his Hollywood counterpart. The action scenes here were a little throwback to the 80s Hong Kong cop shows where heroes and villains get to duke it out in old school fashion in the final act, without police intervention until the show's literally over, but there were a couple of stunts that raised a few eyebrows. Connected surpasses Cellular in its intensity, frustration, and the leads, while almost never sharing the same scene together, individually made themselves very believable as the damsel-in-distress, and the knight in shining armour. Benny Chan adds a whole lot of fresh air to his filmography with this effort, even if it's from remake territory and adopting the same way to close the credits, but does an excellent job out of it.
Steven Vincent Gee
Super Reviewer
Hong Kong version of 'Cellular'...Louis Koo never disappoints;...the initial car crash (the kidnapping) is breathtaking..what marvelous camera work...the car chase scene with the kidnappers is terrific...packed with plenty of action and drama and some timely humor...this movie keeps the viewer involved and entertains!
Fun, stupid over the top action that unfortunately gets dull pretty quickly. All the suspense, and thrills from the original (Cellular) is gone, and replaced with frantic chase scenes, some poor acting and a storyline that's all over the place. I really liked Benny Chan's New Police Story and hoped that this would be as good as that. I was obviously wrong. But in the end, its still a good, lightweight HK action movie that's worth only renting.
Caius Chung
Super Reviewer
Connected (Bo chi tung wah) Quotes
There are no approved quotes yet for this movie.