Connie and Carla
(2004)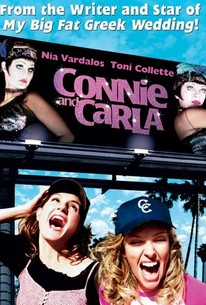 TOMATOMETER
AUDIENCE SCORE
Critic Consensus: The two female leads, as well as energitic musical numbers, enliven an otherwise silly reworking of Billy Wilder's Some Like It Hot.
Movie Info
Connie and Carla are two small-town 'girls' whose dreams of stardom have taken them nowhere. From their debut in a school cafeteria to their current gig slinging drinks and belting out tunes at a Midwestern airport lounge, the singing and dancing duo simply refuse to let the less-than-enthusiastic crowd response dampen their showbiz drive. For Connie and Carla, everything's coming up roses, nay saying boyfriends and snoring audience members notwithstanding. The girls lose one of their few supporters when their boss Frank ends up on the wrong end of a criminal deal--a scene they unfortunately happen to witness. Quicker than a fast change in the second act, Connie and Carla pack up their battered dreams and extensive assortment of wigs and costumes and hit the road, running for their lives. Convinced the killers will never look for them in a place utterly devoid of culture, the pair ends up in the Land of Dreamers, Los Angeles. In a new place with new identities, they create a cover (with a lot of cover-up) that makes them the toast of the town--headlining in a local drag club, they soon find the acclaim that has always eluded them, singing the show tunes they've always loved. Being famous is their dream come true--who cares if includes a tiny little lie? But trying to keep their secret turns out to be a real drag, especially when Connie meets Jeff, a real nice guy with whom she'd really like to be a real girl.
Critic Reviews for Connie and Carla
Audience Reviews for Connie and Carla
I don't know what to say here, it's not awfully bad or superbly good. I like the story but the acting is so bad, not from Nia or Toni off course. It's campy fun but too campy.
Sylvester Kuo
Super Reviewer
½
Hi-freakin-larious! And who doesn't love a cameo appearance by Debbie Reynolds?
Alice Shen
Super Reviewer
Borrowing liberally from Sister Act, Victor/Victoria, Some Like It Hot and Thelma & Louise amongst others, Connie And Carla was a lot better, in my opinion of course, than the extremely bad press it got in the UK suggested.
Two friends trying to make it big, but failing, with their cabaret act (they play to a disinterested crowd of jet-lagged individuals at airport lounges), witness a murder, and are discovered doing so, by members of a local mob. Fearing for their lives, they flee to Los Angeles where they find success with their act by posing as drag queens (which makes them women posing as men dressed as women) at a dwindling gay bar. Inevitably, one of their pair becomes romantically interested in a straight guy, and with their act becoming more successful they risk having their secrets found out and the mob catching up with them.
Things start to fall apart a bit around the time of the cameo appearance of a certain someone (whose shtick was served much better in smaller doses in episodes of Will & Grace), and it seems like the story has nowhere else to go. The film ends predictably amid much talk of the meaning of being true to oneself, but the happy ending isn't oversold. Toni Collette is good in pretty much everything she does, and I have to admit that I've probably added an extra half star because of her presence and her fantastic ad-libs. Nia Vardalos is also less punchable here than she was in My Big Fat Greek Weeding, and David Duchovny thankfully keeps it low key as the love interest. The laughs are hit and miss at times, but as a whole the film is worth a watch and passes the time quite nicely.
Daniel Parsons
Super Reviewer
Connie and Carla Quotes
| | |
| --- | --- |
| Tibor: | You need a baritone? |
| | |
| --- | --- |
| Connie: | We've gotta go some place where we can just blend in. Someplace where they'd never look for us cause there's no theater, no musical theater, no dinner theater, no culture at all. |
| Carla: | Las Angeles! |
| | |
| --- | --- |
| Al: | You're like sad, you know. After all these years, just face the fact it's not going to happen and give up. |
| Carla: | Al, I only have one life. I want it to be a happy one. |