Connors' War
(2006)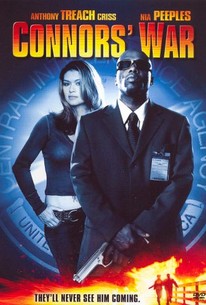 AUDIENCE SCORE
Critic Consensus: No consensus yet.
Movie Info
A blind CIA agent on the verge of retirement is given back his eyesight for forty-eight hours in order to complete one final mission, only to discover that the danger is greater than he ever could have anticipated, in this slam-bang action extravaganza starring Naughty by Nature hip-hopper Anthony "Treach" Criss. Connors (Criss) has earned quite a reputation around the CIA for his bravery in the face of danger and honorable heroics; unfortunately his high profile actions have also found him making some high profile enemies as well. When Connor discovers that he was never meant to return from his latest mission, he enlists the aid of a beautiful doctor (Nia Peeples) in turning the tables on his would-be killers and seek revenge on the high-ranking officials who would attempt to orchestrate his demise. ~ Jason Buchanan, Rovi
Critic Reviews for Connors' War
All Critics (2) | Fresh (0) | Rotten (2) | DVD (1)
...although Criss does show some potential as a performer, his efforts to step into the shoes of a blind character are laughable.
Standard cable fodder all the way, with only a few solid action scenes and maybe one colorful performance in the whole thing.
Audience Reviews for Connors' War
½
The Movie Sells For One Cent On Amazon, does that tell you anything. This movie isn't outright terrible, but it certainly is the very core definition of what a 'B-Movie' is. While the special effects are okay, the script is borderline terrible. I know Treach, a rapper, is supposed to be playing a convict turned elite government agent, and yet, he still talks and curses like a typical rapper! I find that hilarious! And so does his mentor, the bad guy of the movie, Brooks. Nia Peeples is a mix of brains and beauty, and yet, her character progressively gets dumber as the movie goes on. And Treach is playing himself more than anything. A " 'hood James Bond," really. It's like this whole script was written by the worst student in film school; the aspiring rapper turned screenwright. To sum it up: Connors lost his eyesight via an explosion during a botched mission to save the First Lady from terrorists. He's recruited three years later by his old boss, Brooks, for one last mission, in which, he'll be able to get his eyesight back via some technology that involves a rabbit and cats' "eyes glowing in the dark because of a mirror behind their retinas" technique. Basically, light will refract back into his eyes with this procedure and he'll be able to see again, but only temporarally. Once Connors steals a thermos from a military base and hands it to his old boss Brooks, agents put out a hit on him and Dr. Amanda and they go on the run, to find out the truth, which is Connors' hero, mentor, and former boss, got fired by the government and has gone on an insane revenge plot to kill everyone with a secret bioweapon, which Connors' JUST gave to him! Now, it's up to him, Dr. Amanda, and Connors old Secret Service arch rival to stop Brooks' revenge plot before Connors loses his eyesight and everyone dies. And that's basically it. The end is kind of lame, but at least, less than predictable. Blu Mankuma as Brooks, although kind of a Ghetto old man, probably gives the best performance and his character is kind of Ghetto, but he's also very intelligent and meticulous, as well. All in all, this was a funny 90 minutes, and aside the unprofessionalism of everyone's characters who are supposed 'professionals', this was entertaining enough. A good B-Movie. 2 1/2 Stars 1-15-13
Bruce Bruce
Super Reviewer
Connors' War Quotes
There are no approved quotes yet for this movie.