Conspiracy Theory
(1997)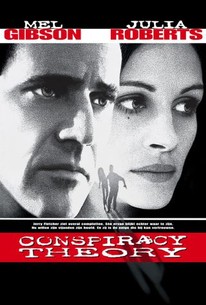 Movie Info
Jerry Fletcher (Mel Gibson) is a New York City cab driver who seems to have absorbed every bit of crackpot information passed along as "suppressed news" that's surfaced on talk radio or the Internet in the past 20 years. Anti-United Nations militia men who are actually U.N. operatives? NASA scientists engineering earthquakes? Oliver Stone's secret life as a government agent discrediting conspiracy theorists? Jerry's heard 'em all and believes most of them, and even publishes his own journal of forbidden information, with a subscription list that now totals five people. In short, Jerry seems like just another New York City lunatic, and while he spends a fair amount of his spare time following Alice Sutton (Julia Roberts), a government attorney, Alice regards him as harmless; he once intervened while she was being mugged, and he's been acting like her benign if whacked-out protector ever since. However, one day Jerry is kidnapped and worked over by CIA operatives; he is convinced that one of the theories he uncovered must be for real -- but he has no idea which one. He tries to get Alice to help him, and before long both are drawn into a dangerous web that leads to a startling revelation of just how Jerry got this way. Mel Gibson gives a fine comic performance, and those with a taste for alternative media will have fun dissecting which of the theories Jerry spouts are "real" (or at least appeared before this film was made) and which were the invention of the screenwriters. ~ Mark Deming, Rovi
News & Interviews for Conspiracy Theory
Critic Reviews for Conspiracy Theory
Audience Reviews for Conspiracy Theory
½
Stilted offering that's opener is that we accept Gibson's lunatic fringe wackjob taxicab driver as a nice guy. Doesn't materialize. I found myself thinking instead that here was an example of the type of antics that got him railroaded out of the fast lane of Hollywood. I'm not a big Julia Roberts fan, but Gibson was so offensive that for once I sympathized with her, particularly when while he was in the middle of a loony rampage and she was called on to look at him with warmth. There are many scenes like that. Believability quotient: zero. I kept wondering when he was gonna get tasered. Patrick Stewart, the bad guy in these proceedings, plays against the overplayed lunacy and comes off doing a superior sinister indeed. Imagine a root canal ... that's what watching this is like.
Kevin M. Williams
Super Reviewer
Another outstanding collaboration of the "Lethal Weapon" dream team Gibson and Donner, creating a funny, enthralling and exciting conspiracy thriller with all elements it needs. While Gibson's character is clearly a lunatic he finally may be onto something as suddenly an agency is out to have him killed, and only Julia Roberts (who never looked cuter) can help him. The chemistry between the two stars is great and helps a lot to make this work, the smart and engrossing script helps too and of course Donner knows how to direct chases. Sometimes the lunacy goes a bit over board, but the dots of humor doesn't make the overall threat any smaller and the movie always manages to keep you on the edge of your seat. Carter Burwell delievered an excellent soundtrack for it, too. And the last five minutes are near-perfect. Excellent thriller movie making.
Whilst Mel Gibson's performance is ridiculously over the top, the storyline is of interest as a paranoia/conspiracy film. In real terms, the storyline seems completely far fetched, but then aren't most conpiracies?
Lady D'arbanville
Super Reviewer
Conspiracy Theory Quotes
There are no approved quotes yet for this movie.