Continental Divide
(1981)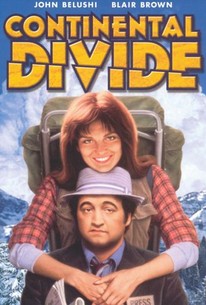 Continental Divide Videos
Continental Divide Photos
Movie Info
Michael Apted directed and Lawrence Kasdan wrote the screenplay for this diverting romantic comedy -- a film that attempts to recapture the spirit of an old Spencer Tracy-Katharine Hepburn vehicle. A very subdued John Belushi plays a star columnist for the Chicago Sun-Times named Ernie Souchak (but loosely based on columnist Mike Royko), who uses his column as a direct line to report on the dirty dealings at Chicago City Hall. When his political reports on a local corrupt alderman get too hot, Ernie is sent to the Rocky Mountains to do a fluff piece on reclusive ornithologist Nell Porter (Blair Brown). Ernie arrives at her mountain hideaway, but Nell is hostile and orders him to leave. Ernie informs her that his guide won't return for a few weeks and she reluctantly permits him to stay. The two first learn to put up with each other and then their aversion slowly turns into love.
Critic Reviews for Continental Divide
Audience Reviews for Continental Divide
½
Uncharacteristically frothy and vulnerable for John Belushi who staked a career in disorderly conduct, 'Continental Divide' is a palpable romantic comedy that doesn't strain the fish-out-of-water humor with brazen city-slicker idiocy. Belushi's sly speech about the mating rituals of bald eagles is ingratiating and symbolic of his inseparable Florence Nightingale connection with Blair Brown who nursed his wilderness wounds.
Cory Taylor
Super Reviewer
½
This is a funny romantic comedy for the most part, but the ending is weird, and I didn't like the ending. Overall, it's pretty good, mostly for the humour, but it could be better.
½
John Belushi stars as Chicago Sun-Times star reporter Ernie Souchak, a household name in town for exposing corrupt politicians, whose latest assignment is to travel to the Rocky Mountains in order to do a story on Nell Porter played by Blair Brown, a famed ornithologist that has dedicated her life to the preservation of the bald eagle. Nell doesn't want a reporter around, and lets it be known, but Souchak is there for the two week duration, like it or not, so she makes due. Soon, the two begin to grow on one another, but will this be just a summer fling, or can the two people that are firmly rooted in their respective homes find a way to make it work? A forgotten little movie in the filmography of screenwriter Lawrence Kasdan, who had been at that time on a roll of fantastic proportions with hit movies, including The Empire Strikes Back, Body Heat, and Raiders of the Lost Ark. Unlike those films, this one is as small scale as it gets, a whimsical romantic comedy that scores all of its points in the subtlest of ways, not the least of which comes from the only straight role in John Belushi's short career. Perhaps a surprise to his fans and even critics at the time, Belushi is quite good as a romantic lead, forming an unlikely chemistry with Blair Brown that makes this simple story a real charmer for those in the mood for a light romance. Michael Apted's (Agatha, The World is Not Enough) direction is workmanlike, although Kasdan seems to be over inflating the fame and importance of hot beat reporters working for big city papers quite a bit. In fact, if there is a weak point to Continental Divide, its the preposterousness of all of the dealings with the newspaper, especially with the influence that Souchak seems to hold in all corners of the city. While one can overlook the overindulgences for the sake of the comedy and love story, it's still hard to ignore altogether, especially since it it takes up roughly a third of the total running length. Continental Divide isn't a perfect movie, but it is amiable, amusing, and will probably leave most viewers smiling, which is a lot more than most romantic comedies can claim considering that most of them I've seen in recent years are just garbage. To sum up here, this film is recommended for those looking for something light to watch as a couple or if you enjoy romantic comedies. Also for Belushi fans that appreciate his skills as an actor rather than just a funny character comedian. He's created so many memorable crackpot performances over the years, but who knew he had it in him to play such a normal guy, and to do it with such genuine flair. He was a great talent who is still missed even today
David Ladd
Super Reviewer
Continental Divide Quotes
There are no approved quotes yet for this movie.